We are SO EXCITED to share that Four Sigmatic has come on to support the Modern Mamas Podcast and to bring you guys a great deal! Get 15% off your Four Sigmatic order with code: modernmamas!  If you've been following along, you know that I am loving the impact these deeply medicinal real food supplements have had on my life, and I can't wait to hear what you think too. Happy shrooming, friends ♡
"Guest Interview – Emma and Sharon of Beyond the Egg Timer"
In this episode, Laura sits down to chat with Emma and Sharon, authors of Beyond the Egg Timer. These two wonderful women have written an inspirational book for women in their mid-thirties or older, who are contemplating motherhood or trying to conceive and finding that it's taking longer than they would like. Both Emma and Sharon have struggled with this issue themselves, and saw a need existed for this kind of book, so they set to work creating Beyond the Egg Timer to help other women. They each share birth stories, and we chat fertility, choosing to wait, and destigmatization of pregnancy post 35. Don't miss it!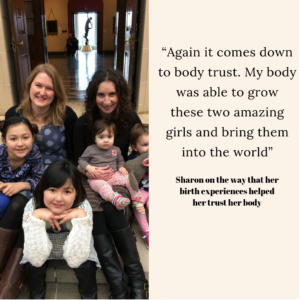 Emma Williams lives in western Maryland with her husband, two children and two dogs. She works for Jhpiego, specializing public health evaluation and research.
Sharon Praissman Fisher is dually board certified as an adult (medical) and psychiatric mental health nurse practitioner. She is also a wife, mother, Buddhist lay teacher, and Chesapeake Bay sailor. She is passionate about helping women through all stages of their life and does so though her private practice, Nurtured Well, LLC, in Baltimore, MD.
Links and Such:
Connect with Emma and Sharon: www.beyondtheeggtimer.com
Facebook page
Find the book: Beyond the Egg Timer
Sharon's practice: www.nurtured-well.com
Connect with us:
Email: modernmamaspodcast@gmail.com
Any thoughts or comments? Leave them below. We love hearing from you. Please subscribe, rate, and review! We're so glad to have you as a part of our tribe!
♡ Laura