We are SO EXCITED to share that Four Sigmatic has come on to support the Modern Mamas Podcast and to bring you guys a great deal! Get 15% off your Four Sigmatic order with code: modernmamas!  If you've been following along, you know that I am loving the impact these deeply medicinal real food supplements have had on my life, and I can't wait to hear what you think too. Happy shrooming, friends ♡
"Guest Interview – Lisa Hendrickson-Jack of Fertility Friday on the Period as a Vital Sign"
In this episode, Laura sits down with Lisa to chat all about why our period is actually a wonderful indicator of health and an incredible tool we can use as women to take power over our health care. Lisa answers your listener questions about contraceptives, fertility, postpartum periods, and so much more. Don't miss it!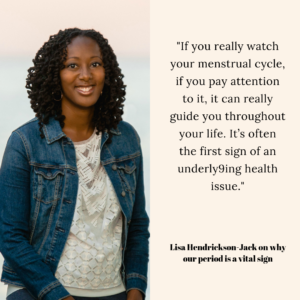 Lisa Hendrickson-Jack is a certified Fertility Awareness Educator and Holistic Reproductive Health Practitioner who teaches women to chart their menstrual cycles for natural birth control, conception, and monitoring overall health. In her new book The Fifth Vital Sign, Lisa debunks the myth that regular ovulation is only important when you want children by recognizing the menstrual cycle as a vital sign. Drawing heavily from the current scientific literature, Lisa presents an evidence-based approach to fertility awareness and menstrual cycle optimization. She hosts the Fertility Friday Podcast, a weekly radio show devoted to helping women connect to their fifth vital sign by uncovering the connection between menstrual cycle health, fertility, and overall health.
Links and Such:
Connect with Lisa on Facebook, Instagram (@fertilityfriday), and Twitter (@fertilefriday)
Website: fertilityfriday.com
Fertility Friday Podcast
Taking Charge of your Fertility
Beautycounter
Jerilynn Prior
Let's Get Checked (15% off with code: mentality)
Connect with us:
Email: modernmamaspodcast@gmail.com
Any thoughts or comments? Leave them below. We love hearing from you. Please subscribe, rate, and review! We're so glad to have you as a part of our tribe!
♡ Laura