We are SO EXCITED to share that Four Sigmatic has come on to support the Modern Mamas Podcast and to bring you guys a great deal! Get 15% off your Four Sigmatic order with code: modernmamas!  If you've been following along, you know that I am loving the impact these deeply medicinal real food supplements have had on my life, and I can't wait to hear what you think too. Happy shrooming, friends ♡
"Guest Interview – Marianne Hermsen-van Wanrooy on Baby Moves"
In this episode, Laura sits down with Marianne, Babies Natural Development Expert, to chat all about her work in the world of baby development. She talks about what she's seen, how she followed her passion, and how movement can impact behavior in our little ones. Plus she answers your listener questions! Don't miss it!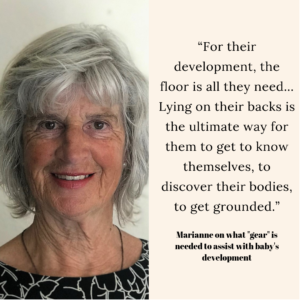 Marianne Hermsen-van Wanrooy, born in Venlo, the Netherlands 1951, completed her four year Physiotherapy training in her home country in 1974. She specialized in Neuro-Pediatrics ever since, until she stopped practicing physiotherapy in 2007. Marianne wrote and published her first book 'Babymoves' in 2002 and her second book 'Babymoves for the child with special needs' in 2007. Marianne's work currently involves sharing her knowledge through her books, teaching and public speaking worldwide. She is also busy researching and learning more about children's development in today's society, and how she can help better the equipment available and improve common child rearing practices.
Links and Such:
Connect with Marianne on her website: http://www.babymoves.co.nz/
Baby Moves
Veer Cruiser Wagon
Connect with us:
Email: modernmamaspodcast@gmail.com
Any thoughts or comments? Leave them below. We love hearing from you. Please subscribe, rate, and review! We're so glad to have you as a part of our tribe!
♡ Laura