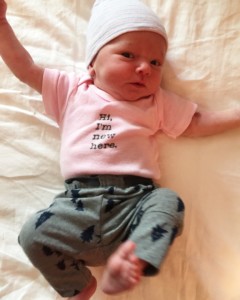 It's berry season, my most favorite season of all! I love summer. I love farmers markets, I love berries, and I LOVE cobblers, especially when they're so simple to make that I can do it with a baby in one hand. Oh ya, if you didn't know yet, we had a baby! Evie Wilder Bruner was born on the Summer Solstice (fitting right?), and we are SO SO madly in love with her. Motherhood is better than I ever could have imagined. More to come on that whole experience on the Modern Mamas Podcast, but for now, we'll eat cobbler in celebration of the greatest summer we've ever had, and soak in every second with her.
This can be enjoyed warm out of the oven, or cooled off. Cobblers are one of my favorite dishes to bring to big get togethers because they're easy to make, the recipe can be doubled or tripled without fuss, and they're ALWAYS a crowd pleaser. I'll be making this for a 4th of July BBQ we're going to this week.
Enjoy it, friends. And happy SUMMER!
Simple Summer Berry Cobbler
Servings: 6
Difficulty: easy
WHAT YOU NEED: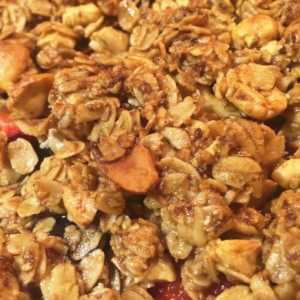 1 cup gluten free rolled oats
1/2 cup rough chopped cashews (any nut will work here, but cashews give it an amazingly crunchy, buttery texture)
1/4 cup + 1 TB coconut sugar
1/2 tsp cinnamon
1/2 tsp vanilla
pinch of sea salt
4 TB cold butter or ghee, cubed (+ a bit for greasing the dish)
4 cups berries of your choice (I used strawberries, blueberries, and raspberries)
juice from half a lemon
1 TB arrowroot or tapioca flour
WHAT YOU DO:
preheat oven to 350F and grease an 8×8 baking dish (or similar)
add oats, cashews, 1/4 cup coconut sugar, sea salt, vanilla, cinnamon, and cubed butter to bowl and mix with your hands until combined into a crumble
rinse, dice, and add your berries directly to your cobbler dish
add remaining 1 TB coconut sugar, lemon juice, and tapioca or arrowroot flour and combine gently
top berry mixture with crumble so topping is evenly spread out
bake for 40 minutes until berries bubble up the sides
let cool for 10+ minutes, and ENJOY! (delicious with vanilla ice cream!)
Would love to hear your thoughts on this one! Also, thank you for all of the love over on social media about our new addition. It means the world to us. Wishing you the happiest summer yet. Cheers, and live rad, friends!
♡ Laura