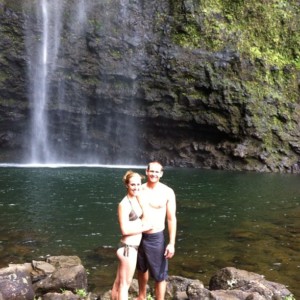 Almost 3 years ago now, Rusty and I honeymooned in Kauai (see pre manbun Rusty?). It was an amazing trip filled with hiking, kayaking, adventuring, and of course, eating. When we travel, we always make a point of trying to experience the place as locals would. We avoid resorts at all costs, stay away from chain restaurants, and never take tours. And when we find something good – a "secret" hike, unique coffee shop, or hole in the wall taco spot – we go back, sometimes, again and again. Which brings me to the spot where I connect honeymooning to taco Tuesday. On our honeymoon, we had the most (I seriously mean the MOST) amazing tacos ever. A couple (wife from Mexico and husband from San Diego) moved to the island and created something magical – tacos (and on special occasion tamales) made from scratch from local, organic ingredients. Organic handmade blue corn tortillas, grass fed beef and pastured pork and chicken, fresh toppings and amazing flavors. I'm drooling just thinking about it.
With all that being said, I've got a high bar for Mexican food, and it's hard to find good quality ingredients. Most restaurants use crap oils, genetically modified corn, conventional meats, and the like. So when I got a real hankering for tacos the other evening, I decided to take matters into my own hands. And this recipe was the result. All the flavors I wanted with none of the crap.
So, I bring to you a taco salad, featuring organic blue corn tortilla chips from Jackson's Honest (the most amazing chips on the planet cooked in coconut oil to perfection). Happy Taco (salad) Tuesday!

Taco Salad (GF, NF, DF)
Servings: 3-4
Difficulty: easy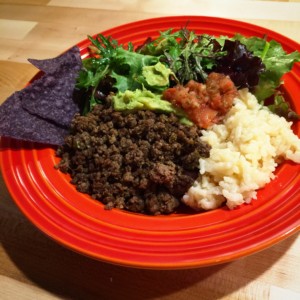 WHAT YOU NEED:
for the seasoning:
for the taco salad:
1 cup dry arborio white rice, rinsed till the water runs clear OR substitute cauliflower rice for lower carb (use this recipe but swap in the taco seasoning instead)
2 cups homemade bone broth
1 lb grass fed ground beef OR cubed chicken breast
1 TB ghee or coconut oil
1 leek or onion, diced
4 cups organic mixed greens
1 avocado, cubed
2 TB olive oil
1 TB balsamic vinegar
your favorite salsa and guac
Jackson's Honest tortilla chips OR 4 organic, non-gmo corn tortillas
WHAT YOU DO:
bring broth to boil in a saucepan, add rice, set to simmer, cover and cook for 20 minutes
in the meantime, set a cast iron pan to medium heat and sauté the onion/lee in oil until translucent
add beef and 1 TB of seasoning and cook, stirring until cooked through
stir together olive oil and vinegar and toss your greens and avocado in dressing
once rice is done, stir in a tsp of seasoning
plate the salad and rice and then add seasoned beef
top with salsa and guac and add some chips or heat the tortillas on the stovetop and fill with the goodness
Enjoy! This is a new Tuesday (or any night) night favorite at our house
Happy eating! I hope you guys enjoy this one as much as we did. If you do, let me know in comments below! 
♡ Laura