So, some of you might recall from a recent Instagram/Facebook post, I made some incredibly drool worthy carnitas a couple weeks ago. I would like to first apologize for taking so long to get them to to you, but hey, life's been NUTS and these are worth the wait.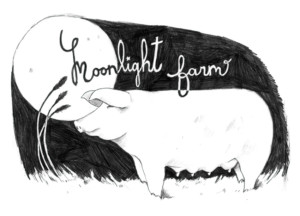 One of the coolest (among many) things about this dish is the pork – the succulent, nourishing, fall off the bone pork that came from just 15 miles away from my favorite pig farm on the planet. At Moonlight Farm (check out their sweet logo), farmer/operator Alexa raises pastured Berkshire pigs and chickens, providing some of the most delicious pork and yellowest yolks I've ever had. The farm lives in the fertile Beaver Valley of Washington's Olympic Peninsula (where I call home). Below a stretch of lush woodland and just inland of the Puget Sound, they are currently home to a lively bunch of Berkshire pigs and chickens. Their animals spend their days scratching and rooting around on rotating pastures, are fed on local grains and whey, and are treated with herbal and homeopathic remedies when needed. The pigs are raised from farrow to finish so every minute of life is as enjoyable and natural as can be. Alexa strives to raise each of her animals as true to their natures as possible, in turn providing healthful fertility for the soils and producing more authentic, nutritious and delicious food for our community (like me). Lucky for me I get to start helping out at Moonlight farm this month, and I can't wait to get started (more to come on those adventures soon).
Now that we've discussed where this delectable pork came from, let's talk about how to prepare it in a way that will give you a whole new appreciation for pork. Might I say that bacon is no longer king? Move over bacon, carnitas are in town, and pork shoulder rules in our house now. With just 4 ingredients (one of which is water), you can have the most mouth watering meat on the planet. Layer on some grain free tortillas. Top it off with a bit of guac and locally made salsa. Yum. Oh and did I mention that the pork renders down (essentially fries) in its own nourishing lard? I'm happy. And I want you to be too. So without further ado, carnitas. Enjoy!
The Best Carnitas (GF, NF, DF)
Servings: 8
Difficulty: easy
WHAT YOU NEED:
1 pastured pork butt, shoulder, or ham roast (I used a 3lb shoulder roast)
plenty of sea salt
1 cup of organic orange juice
3 cups of filtered water
Yes, that's it. I know. Crazy right?
some simple additions (these don't need much as they speak for themselves):
guacamole (we buy some organic guac at the local co-op)
salsa of your desired heat level (I like mild because I am a spice wimp)
WHAT YOU DO:
smother your roast with sea salt and put in a large thick bottomed pot or your Instant Pot for quick cook time
add orange juice and water and bring to a boil then set it to simmer and let it cook for 4 hours until the meat is falling off the bone (if you're using the Instant Pot, set it to meat/stew and then add time till you get to 1 hour)
once the meat is super tender, pull it off the bone (and save bones for broth) then turn heat up to medium/high and remove lid, letting the meat cook down in the juices and fat until liquid is evaporated and carnitas meat is crispy from frying in its own fat (um, yum!)
layer on tortillas (which I make as the meat renders down) and top with salsa and guac
Enjoy every single bite
Would love to hear/see your thoughts on this one! Comment below or post a picture. And don't forget to love your local farmer. They dedicate their lives to raising food properly and it really does matter. Cheers to carnitas night!
♡ Laura