Hi friends! It's recipe time, and this ones a real versatile vessel of delicious. Feel like something savory? It's a tortilla or wrap. Need to feed that sweet tooth? You've got yourself a crepe. The texture is great. The options are endless. So, whip up a batch and take your pick. We've had these as breakfast crepes filled with coconut whipped cream and homemade jam. We've whipped up carnitas, wrapped them in these tortillas and gone to flavor heaven. I'll let you decide.
So without further ado, I introduce to you, some grain free crepes or tortillas for any purpose your heart desires. The only thing that I ask is that you enjoy every bite. Cheers! 
Grain Free Tortillas or Crepes (GF, NF, DF, SF)
Servings: 6-8
Difficulty: moderate
WHAT YOU NEED: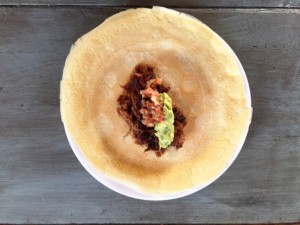 2 pastured eggs whisked
1 cup of full fat coconut milk from the can
1 tbs of olive oil
3/4 cup of tapioca flour
3 TB of coconut flour
1/4 tsp sea salt
*OPTIONAL: add 1 tsp of vanilla and 1 tsp maple syrup if you plan to use these as sweet crepes!
WHAT YOU DO:
in a medium bowl, mix the wet ingredients until blended
in a separate bowl, combine all dry ingredients
pour dry ingredients into the wet ingredients and whisk until fully combined
heat pan on medium and melt either butter or coconut oil in your pan (not too much or your poor tortilla will drown – you can actually just apply a tiny bit of oil every 3-4 tortillas. They get easier and easier to work with after you've got your pan primed)
pour 1/4 cup of batter into center of pan
cook for 2-3 minutes until tortilla moves freely in the pan and flips easily (*note: in this picture, I have to much oil in the pan. You're should have less)
flip and cook about 1 to 1 1/2 minutes on the opposite side until slightly browned (if you have skills like Rusty, you won't need a spatula… I do)
pile tortillas on a paper towel-lined plate with wax paper or paper towel between each to keep them from sticking
fill them with whatever your heart desires (ie: taco night, breakfast wraps, turkey wraps, sweet treat)!
You can also make these ahead and simply reheat them on a pan or griddle (no oil or grease needed)
Would love to hear how you use them! Tag me so I can see your creations. Enjoy! 
♡ Laura