KEEP READING FOR A GIVEAWAY OF MY FAVORITE GHEE!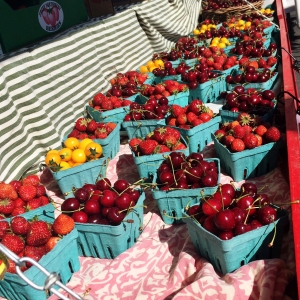 Today is the Solstice, which means it's the longest day of the year, and summer is officially upon us. What better way to celebrate than with a delicious summer dessert? With summer comes all the best fruit, and everywhere I look I see fresh, beautiful berries just waiting to be enjoyed, and these sweet treats are just calling to be used in delicious summer desserts.
I don't know about you but I sure do love a good summer dessert, and if berries are involved I'm one happy camper. So, after coming home from farmers market with more strawberries than I knew what to do with, I decided to put them to good use. When I think strawberries, I think whipped cream, and when I think whipped cream, I think buttery, flaky shortbread.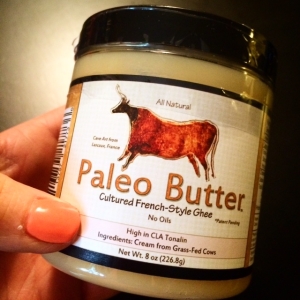 It just so happens that I recently got a special package from my beautiful friend and owner of Paleo Butter Co. If you haven't been following long, HERE is a post all about Paleo Butter and the nutritional benefits of ghee (clarified butter). It's got all the richness and benefits of grass fed butter but without the parts of the dairy that many folks find themselves sensitive to. It also has a higher cooking temperature and is solid at room temperature. I use Paleo Butter for pretty much everything in the kitchen. Even just opening that lid and taking a long hard sniff is a pleasurable experience. This stuff rocks. And I am going to give away two jars to one of you! You'll get the classic Paleo Butter and the newest coconut-ghee combo (see below for all the details).
So, today I bring to you both a delicious recipe for summer shortbread with berries and whipped cream AND a GIVEAWAY for my favorite ghee to make all the shortbread you'll need for your next summer get together.
Here's how to enter:
So without further ado, some summer shortbread topped with whipped cream and berries to start this season off right!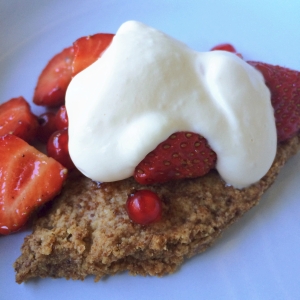 Summer Shortbread, Whipped Cream, and Berries (GF, NF, egg free)
Servings: 6
Difficulty: easy
WHAT YOU NEED (if it's not local, I get my ingredients here):
for shortbread:
for topping:
1/4 cup raw heavy cream or coconut cream (remains in the fridge until ready to make whipped cream)
1 TB pure organic maple syrup
1-2 cups fresh, local berries of your choice
1 TB coconut sugar
WHAT YOU DO:
preheat oven to 325 F
place a small mixing bowl and your mixers in the freezer
cover your berries with 1 TB coconut sugar, stir and set in the fridge to marinate
slather some Paleo Butter on a baking sheet
sift together the flour, coconut sugar, and sea salt
add Paleo Butter in small chunks to your flour mixture
use your fingers to rub in the Paleo Butter until you have a crumbly, course meal
Make a ball out of your crumbly dough (this should be hard and it should be really crumbly)
put your ball on your buttered pan and flatten it out into circle with your hands
now take a knife and gently cut it into 6 triangles
place this in the oven for 15 minutes
at the 15 minute mark, pull it out, and use a spatula to separate the triangles
let it bake for another 15 minutes or until they are lightly browned and a toothpick comes out clean
this is important: move to a cooling rack and LET THEM COOL! If you don't they will fall apart, but the wait is worth it
After 15 minutes of cooling, pull out your mixers, bowl, maple syrup, and cream
whip your cream with the maple syrup until small peaks appear then place in the fridge
serve your shortbread in a bowl, top with berries, and a dollop of whipped cream
ENJOY!
Best of luck in the Giveaway! Don't forget to enter as many ways as you can for a better chance to win. Happy Solstice and happy summer! As always, Live Rad.