I am clearly on a summer dessert kick right now. Maybe it's because the weather has been absolutely gorgeous for the past two weeks. Because of the weather and the season and my general proclivity for being outdoors, we've been spending most days outside. I've even got a work station set up on our back porch. The sun is shining, the birds are singing, the Fourth of July is upon us, and it's time to celebrate with all of the fresh berries and sweet summer dessert that requires minimal cooking and minimal time inside.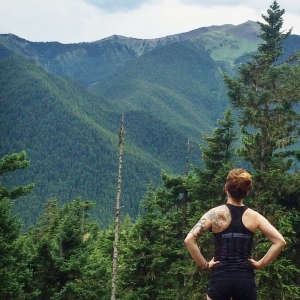 Last week, I posted a summer shortbread and berry recipe, and now I bring to you an even more refreshing summer dessert. This time, it's frozen, making it perfect for those hot summer days and nights. It's also raw, which means you never need to turn on that oven and heat up the kitchen (or the whole house). Another bonus? When you use high quality probiotic filled coconut yogurt (you can also use yogurt from pastured cows, sheep, or goats if you can tolerate dairy), you'll get the benefits of gut healing, nutrient dense probiotics too.
The cashews and yogurt offer the silky smooth texture of cheesecake filling (minus the crap you'll find at the damn Cheesecake Factory) atop a delicious, perfectly sweet crust. This is a huge win, and my husband would agree. In fact, they turned out so well that I'll be making a fresh batch for a dinner party we're hosting this weekend after a long day of hiking. They're a piece of cake (pun intended) to make ahead and because they are individual sized servings, you know exactly how many to make. That is unless someone (take my husband for instance) has a hard time stopping at one. I recommend making some extras just in case. I'll pop some in the freezer in the morning, we'll head out and hit the trails, and then come home to dinner and a delicious dessert.
So enjoy these delicious frozen summer treats with the ones you love! And don't forget to get outside and take time to enjoy this weather, each other, and the world around you. It's truly an amazing place when we take time to enjoy it. Cheers!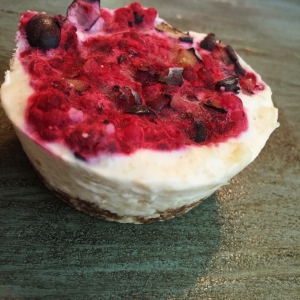 Servings: 8
Difficulty: easy
WHAT YOU NEED:
for the crust:
3/4 cup nuts of your choice (I used walnuts and cashews)
6 dried figs (or 8 dates, but I love figs)
2 TB shredded coconut
1 tsp cinnamon
for the filling:
10 oz soaked cashews (soaked for 2-3 hours)
1/3 cup high quality plain probiotic yogurt of your choice (I used homemade coconut yogurt – recipe coming soon)*
2 TB raw, organic honey
juice from one organic lemon
1/2 cup of berries of your choice (I used blueberries and raspberries)
*if you don't have a good go-to yogurt at this time, you can substitute coconut cream
More on the ingredients I choose can be found HERE!
WHAT YOU DO:
toss nuts, figs, coconut, and cinnamon in your Vitamix or blender and pulse until you have a chunky dough (it'll press together to form a solid base)
fill the bottom of 8 muffin holes in your muffin tin with the mixture and press down so they are all even
now, add soaked cashews, yogurt, honey, and lemon juice in your Vitamix and blend until you have a smooth consistency
add equal amounts of the filling mixture to each of your 8 dough bases
now toss your berries into the blender and pulse until you have slightly chunky consistency
swirl the berry  blend into each of your cakes to get a pretty tie-dye like look
place them in the freezer for about an hour
ENJOY! These are a delicious, healthy treat on a hot summer day
I'd love to hear what you think! Comment below with your thoughts or questions. Enjoy, friends! And as always, live rad.