After the great response I got from posting a photo of this tart on Instagram last night, I knew I shouldn't hesitate on getting the recipe posted for you guys. The inspiration for this recipe came to me after buying far too much rhubarb at farmers market because sometimes too much of a good thing is actually an even better thing.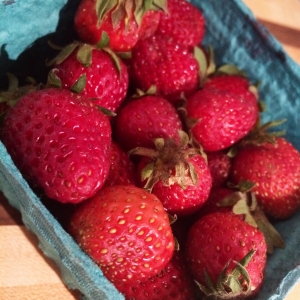 The other night, Rusty grilled up some perfect pork chops, and I made the ginger rhubarb sauce from Diana Rodger's The Homegrown Paleo Cookbook (favorite cookbook of all time, by the way). The sauce was amazing, but I had a lot of rhubarb leftover, so after some brainstorming, this is what I came up with. Considering how gorgeous the strawberries are here right now, I new that they would make the perfect partner to the tart rhubarb, and shoot was I right. I am happy to say that this was a "first time's a charm" kind of experiment. The tart turned out to be so delicious, so I figured why waste any time getting it to you guys?
Sure, I've been on a dessert kick recently. Sure, we shouldn't eat dessert ALL the time. But it's summer. I love entertaining. And there's no better way to wrap up a great meal than with a delicious, seasonal treat, especially when the season is all about berries.
So without further ado, a seasonal summer tart that will leave your guests wanting more and will leave you smiling because it's pretty damn simple to make. Enjoy!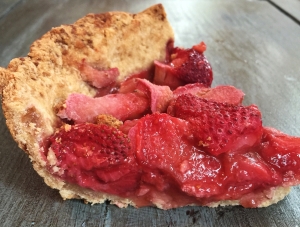 Strawberry Rhubarb Tart (GF, NF)
Servings: 8
Difficulty: moderate
WHAT YOU NEED:
for the crust:
1 cup Otto's Cassava Flour
2/3 cup almond flour or Tigernut Flour
1/3 cup coconut sugar
1/4 tsp sea salt
1/2 cup cold unsalted grass fed butter cut into cubes
1 large pastured egg yolk
1/4 cup heavy cream (I used raw)
1 tsp vanilla extract
for the filling:
2 stalks of fresh rhubarb, chopped into 1/2 inch pieces
2 cups of fresh strawberries, sliced in half with stems removed
1/3 cup pure maple syrup
1/4 tsp sea salt
juice from 1/2 a lemon
3 TB tapioca flour
HERE is where I get all my ingredients that aren't currently fresh and in season
WHAT YOU DO:
preheat oven to 375F and put a baking sheet un the bottom rack to catch juices
first, put your filling ingredients together so the flavors can meld: add all filling ingredients to a bowl, stir them up, and let sit
now, make the crust: combine flour, coconut sugar, and sea salt in a large bowl
add cubed butter and use your fingers to mix the flour and butter until you have a crumbly texture
mix egg yolk, cream, and vanilla in a small bowl and then add to flour mixture, stirring until you have a nice dough
smear some extra butter all over a pie dish and then use your hands to flatten the dough into the dish so you have a nice pie shell (there will probably be leftovers, which I make into a few small cookies for us to enjoy while the pie finishes)
use a fork to poke holes in the crust so it doesn't bubble
now, bake the crust for 10-15 minutes, keeping an eye on it to make sure it doesn't get too brown
pull the lightly browned crust out, and using a slated spoon, add filling to tart crust, leaving the extra liquid behind (there will be plenty more that comes from the berries cooking down)
with a spoon add just 2-3 spoonfuls of the leftover juices, drizzling over the top of the filling
bake for 60-70 minutes, checking after the first 30 to make sure the crust isn't burning (if it is, cover the edges with foil)
you will know it's done when the middle is bubbling and the crust is browned
let the pie cool for at least 30 minutes (I prefer letting it get to room temp so the flavors meld and it stays together when cutting into it)
ENJOY! I added fresh made whipped cream from the leftover raw cream. This was a HUGE hit!
Cheers to a another great summer treat! Let me know what you think in the comment below. And please share this recipe for others to enjoy. Next up, will be a savory summer dinner idea, so stay tuned, and Live Rad!