So I have posted a few Instagram photos of my new favorite breakfast item. But if you've missed those posts, I am here now to tell you guys all about Good N Raw granola (and kale chips) and why I've started enjoying a bowl of this stuff pretty much every morning. PLUS, I'm offering a giveaway and a 10% discount code (RADICAL) so that you can try my favorite flavors for yourself (scroll down for more details)! Remember, that the point of this blog is NOT to sell things to you guys. If I write about a product, it's because I truly enjoy it and just want to spread the word.
First let's talk about WHAT this stuff is:
Dr. Keith Jordan reached out to me a few months back thanks to a connection with my good friends at Vital Proteins, and I am so glad he did. Dr. Keith has taken his passion for holistic health and wellness into creating nutrient dense real foods that anyone can enjoy. His granolas are made from 100% organic and raw ingredients, including buckwheat, fruits, nuts and seeds, ancient sea salt, spices and a bit of honey. The kale chips are by far the best I have ever had (even my husband agrees) and are made from %100 organic and raw kale, cashews, olive oil, and seasonings, which vary depending on the flavor you choose.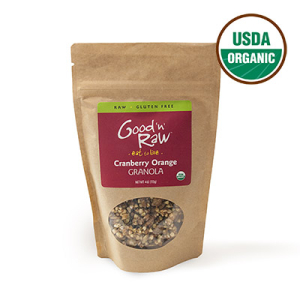 You know by now how important organic and sustainable ingredients are to me, but what about raw? While I don't believe a fully raw diet is feasible or even healthy for everyone, I do believe that getting raw foods into your diet on a daily basis can be very beneficial, and here is why:
Raw, organic foods maintain their vitamin and mineral content, which can be reduced when foods are cooked and heated.
Raw foods contain higher natural fiber content, which can benefit the body's digestive system (and we know how important that is for overall immune health)
Raw foods lead to less food packaging, which is great for the environment and reduces the amount of chemicals that might be in the food you eat.
Raw foods contain phytonutrients, which are nutrients that have been proven to improve overall health, and cooking or heating phytonutrient-rich fruits, veggies, nuts, and seeds can deplete these nutrients. These nutrients allow for optimal cellular function and communication, so enjoying them plentifully in raw foods (especially ones that taste this good) is great for mind, body, and soul.
Next up, the WHY:
For a long time my breakfasts were pretty low carb, varying from bulletproof coffee or tea to simple eggs and veggies. Over the course of the past year, I have come to discover some adrenal issues (more on that story HERE), and I've realized that for me to best support my overall hormonal health and sustained energy throughout the day, I need more healthy carbohydrates in the morning. Enter Good N Raw granola. Sweetened with just a bit of honey, the carbohydrates come from buckwheat groats (a gluten free ancient grain that I do really well eating when prepared properly) and whole fruit, which fuel me for work, play, and adventure without an insulin spike and crash.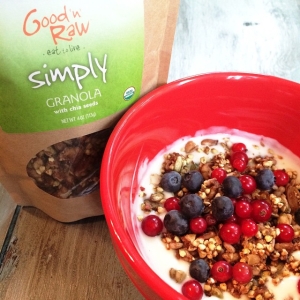 I keep breakfast balanced with local, whole milk sheep's yogurt, Vital Proteins, and some fresh, local berries (because they are currently in season and SO good). This meal provides me with a balance of carbs, protein, and fats. It's also loaded with extra healthy fats (Vitamins K and B12) and probiotics from the grass fed, local dairy yogurt.
Now, I know this breakfast might not be for everyone, but it works for me, and it's really nutrient dense, energy dense, and perfect for long mornings filled with work, training, and/or whatever adventure or homesteading project awaits. It's also beneficial for someone who might be considering fertility in the near future (hint hint… no not quite yet, but it's on our minds).
But whether your a 20-something woman like me, an athlete, a mom, dad, kid, teen, or any other category I haven't mentioned, Good N Raw granola is a great way to snack and fuel right without the crap you'll get in almost every other cereal out there.
And don't forget the kale chips. They are small, packable, and great for snacking during a long work days, travel, or even a day spent hiking in the mountains. Get your veggies in and feel like you're snacking on delicious cheesy chips. Now that's a win-win.
Now, how about HOW you can get some of this goodness in your life:
Want to get your hands on some Good N Raw? Here's how:
First, you can go ahead and order HERE using code RADICAL for 10% off any order.
And I am also offering a GIVEAWAY until July 23rd where TWO lucky winners will get my 2 favorite kale chips and my 2 favorite granola flavors. See below for more details and how to enter.
Best of luck! And as always, Eat Right and Live Rad!