If you've followed me for long, you'll know that I am ALL about team turmeric. Look no further than THIS post to find all of the amazing health benefits that this little orange powerhouse provides.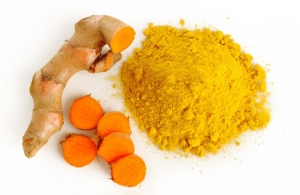 It is not only incredibly nutrient dense, antioxidant-rich, anti-inflammatory, and awesomely bright orange, but it also adds the most delicious kick to all kinds of recipes. Don't believe me? Well, it just so happens that my turmeric bacon chili is one of my most loved recipes. I've also added it to my fermented chutney, my most popular quiche, and even my morning green shake. Multi-purpose. I like it.
Turmeric warms the body, heart, and soul in a way no other spice can. It must have to do with your body saying thank you for the treating the tastebuds and the whole system with love. 

So, yes, turmeric is pretty amazing. It is for this reason that I have decided to make it the star of the show at the first annual SLO County Paleo Festival. In just under two weeks, my good friends Dustin and Amanda from Atascadero CrossFit are putting on this awesome event, and some of the best Paleo bloggers and enthusiasts from California will be there (plus this blogger all the way from Washington). It's an honor to be a part of it, and it's NOT TOO LATE to get your tickets and come to what is guaranteed to be an amazing event.
I'll be serving up samples of my turmeric bacon chili, along with this newest creation – my Turmeric Honey Elixir. I've also heard talk of other chefs who will be sampling paleo donuts, all kinds of bacon wrapped goodies, and much more. Plus, there will be plenty of local wines and ciders to enjoy. So don't miss out! You can get tickets online (ONE TICKET for $30 or TWO TICKETS for $50) – You can't beat that deal.
So without further ado, the super simple recipe for my favorite refreshing, antioxidant rich, nourishing elixir. Try it with lunch for an extra spectacular refreshing flavor punch. Enjoy! And Live Rad. See you in SLO!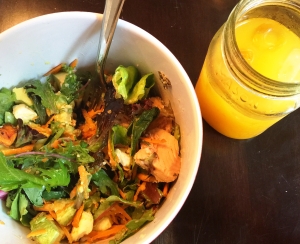 Radical Honey Turmeric Elixir (GF, NF, DF, AIP)
Servings: 8
Difficulty: easy
WHAT YOU NEED:
4″ piece fresh turmeric, grated (or 2 tsp organic dried turmeric)
3″ piece of ginger, grated (or 1 TB organic powdered ginger)
juice from 3 lemons
4 cups pure organic coconut water
2 TB raw honey
WHAT YOU DO:
put coconut water, lemon juice, turmeric, and ginger into your Vitamix or blender, and blend until liquified
now, add in honey and blend until honey has dissolved
ENJOY! You can store in the fridge for up to four days (I also enjoy it mixed with soda water for a sparkling pick-me-up)
I love taking a small dose of this nutrient powerhouse every morning. It wakes me up, gets my digestive system ready for breakfast, and provides loads of anti-inflammatory benefits, plus Vitamin C to keep me healthy and raring to go. Cheers!