How many of you have tried my chunky chili recipe? Of all my recipes, I have gotten the best feedback from this one. People seem to LOVE it, and I have to admit, I don't blame them; we do too. It's been a staple at our house every week (the ones we've been home, at least) since I first made it. As the seasons have changed, so have some of the ingredients, but the premise has remained… a delicious, hearty, nutrient dense, one-pot wonderful meal to appease any palette.
So, here is a new take on an old favorite. I have made it even more nutrient dense by adding an anti-inflammatory and nutritional powerhouse ingredient that everyone could use in their diet a little more often. I've removed nightshades, which, though I don't have a problem with, I know many folks (including some of my clients) do. And I have utilized seasonal squash, local raw honey, and plenty of dark leafy kale. The result? A fabulous, soul-warming, yellow chili that left my husband asking for more (which means sadly it didn't last the usual 3 nights in our house).
So what's that notorious anti-inflammatory powerhouse I mentioned?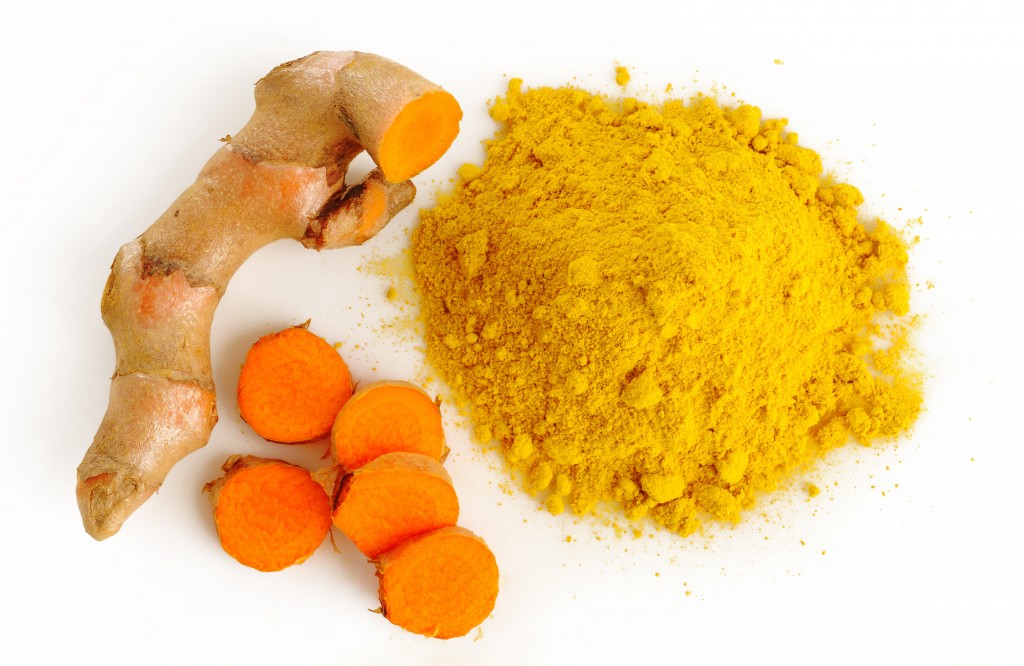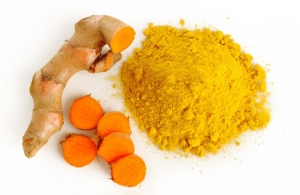 Let's talk about turmeric. This beautiful orange food boasts a plethora of nutritional magic (I'm talking real-life magic, people). Here are just a few of the reasons why I love this stuff:
The bioactive compounds (called curcuminiods) in turmeric have some pretty powerful medicinal properties making it a strong anti-inflammatory and antioxidant.
First, let's talk anti-inflammatories. It's no secret that inflammation is essential to fight off foreign invaders in the body and to repair damage that comes along with living life, coming into contact with toxins and all sorts of stressors, being subjected to pathogens and bacteria, etc. Basically, chronic, low-level inflammation plays a major role in almost every chronic, Western disease (think metabolic disease, arteriosclerosis, and cancer, to name a few), and this spicy ingredient can help ward that off. The beauty is that in multiple studies, the potency of turmeric has compared favorably to anti-inflammatory pharmaceutical drugs, but with none of the side effects.
Now, a quick note on the importance of antioxidants. Oxidative damage is believed to be one of the factors behind many diseases because of the free radicals that react negatively in our bodies, leading to the killing of cells and damaging of DNA. The antioxidants in turmeric help to protect us from these free radicals. In addition to that, the bioactive compounds in turmeric not only provide a strong antioxidant, but they also boost the body's in-house made enzymes to offer even more protection from the inside out.
Turmeric can also seriously increases your brainpower by boosting levels of BDNF.
BDNF (Brain-Derived Neurotrophic Factor) is a type of essential growth hormone that functions in the brain, and the compounds in turmeric may be effective at delaying or even reversing decreases in brain function that result from disease and aging.
Turmeric can also lower your risk of heart disease too (the biggest killer in the world).
This powerful stuff has been proven to reverse the heart disease process by resolving endothelial dysfunction as effectively as exercise and/or prescriptions. The compounds in turmeric also reduce inflammation and oxidation (as I mentioned earlier), which are also important factors in the onset of heart disease.
As I said, these are just a few of the reasons I love this stuff. It's also been shown to help with depression and arthritis, along with chronic disease and pain. (See even more benefits here). So get in as much as you can whenever you can, and start with this delicious recipe! Recreate. Share. And Enjoy <3 knowing you're not only fueling yourself and your loved ones with delicious food, your serving up a nutrient dense powerhouse too!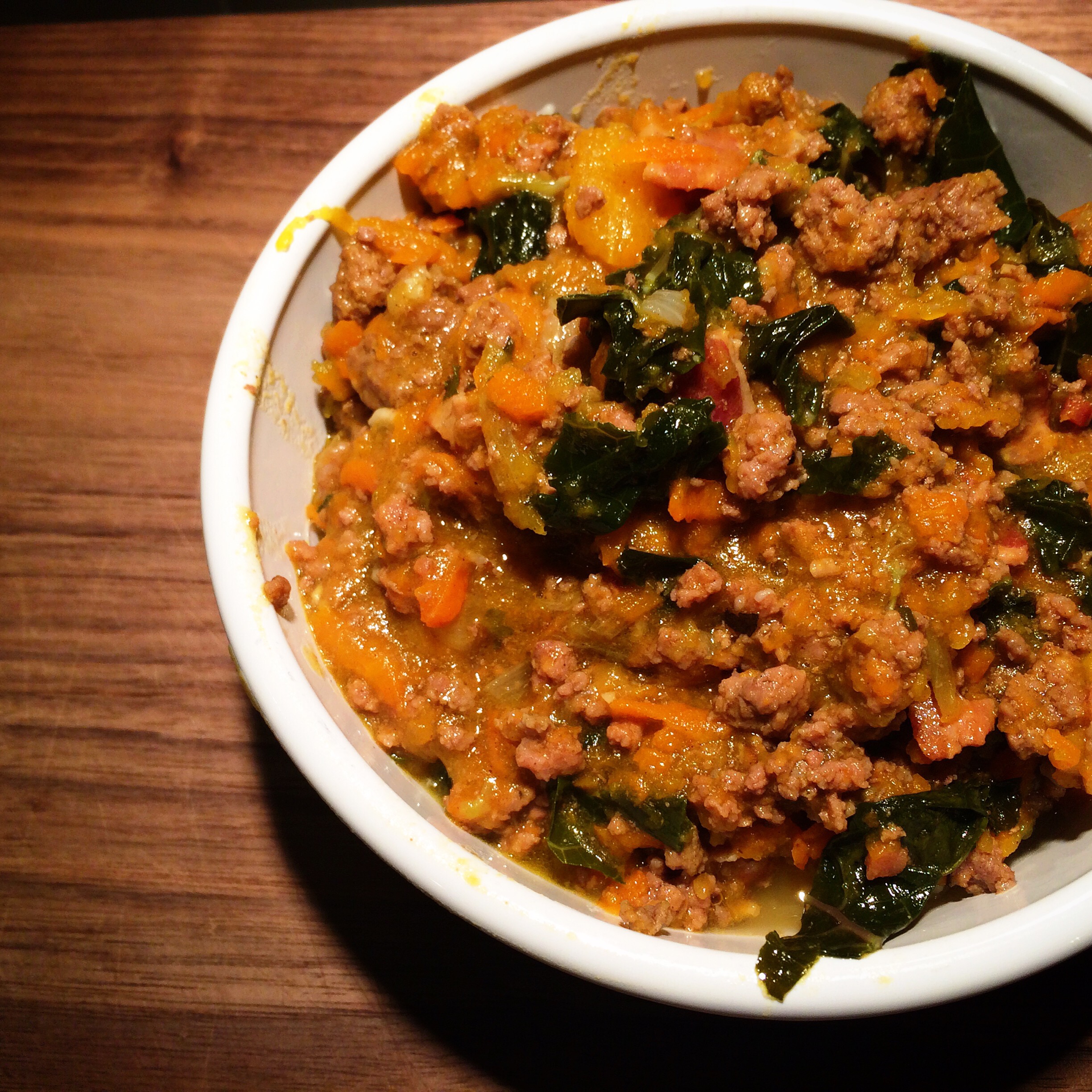 Sweet and Squashy Turmeric Chili (GF, NF, DF, nightshade free)
Servings: 6
Difficulty: easy
WHAT YOU NEED:
6-8 slices of pastured bacon
2 lb grass-fed, local ground beef or pastured pork (or a mix of both)
1 medium shallot, diced
1 large leek, chopped
4 cloves minced garlic
2 large carrots, grated
4 stalks kale
2-3 TB fresh grated turmeric (or 1-2 TB powdered)
2 tsp dried oregano
2 tsp ground cinnamon
1 tsp ground nutmeg (omit for AIP)
2 tsp sea salt
1 tsp fresh ground black pepper
1 1/2 cups homemade beef bone broth
3 TB honey (omit for sugar detox or QCA)
1 large organic squash of your choice OR 3 medium sweet potatoes (stick with what's in season)
*NOTE: I spice as I go, and add more if needed at the end, so taste and add to taste!
Find ingredient notes HERE!
WHAT YOU DO:
set your oven to 400 F cut your squash or potatoes in half lengthwise, set facedown on a baking sheet and let them roast until really soft and dribbling liquids (you should be able to scoop the insides out with a spoon)
heat a large roasting pot or dutch oven over medium heat
chop your bacon and throw it in the pot to begin cooking until just cooked through
dice your shallot and leek, add to bacon, and cook until bacon is a bit crispy and leek and shallot are soft
add in your ground meat, break it up with a spatula, and let it brown, stirring frequently
as your meat cooks, add the minced garlic and your spices
once the beef is cooked through, add in the carrots and turmeric and stir for about a minute
add your broth and let simmer
now add in the honey and stir it up (should have a nice simmer going)
pull out your squash or sweet potatoes, scoop out the insides, and toss them in your chili
give it a taste, and add more salt or spices if desired
remove kale leaves from stalk, chop, and throw it in.
stir and let it simmer on low heat for at least 30 minutes or a few hours (I usually let it simmer for 3 hours)
ENJOY! We sprinkle Lewis Labs Brewers Yeast or local grass fed sheep's milk cheese on top, and it is ALWAYS delicious! 
Rusty basically ate two night's portions of this stuff the first night I made. It's a new favorite in our house. See for yourself! If you enjoyed this post and the recipe, please comment below, like, and share. Thank you for the love! <3 Cheers.