So we're here. The year is in full swing, we're moving into Spring, and reality is hitting. The gung-ho resolutions of January 1st might be faltering a bit, might be seeming a whole lot less doable now that we're back at work, time is precious, and dammit, those cravings are calling. So what do you do? Throw in the towel, sit down with a whole mixing bowl of cap'n crunch and hide out until people forget that resolutions were even a "thing" this year? Nope.
Not this year. This year, you're with me, and we're going to make a change, a change relative to your needs, a change that's as big (or small) as you want it to be. See how happy I am about it? Seriously… All I ask is for a minimum of 7 days (probably one of the shortest commitments you'll make all year) and a pledge to trust the process. This IS NOT designed as a punishment for enjoying some treats with family or friends. It's NOT created as a way to restrict and go low carb. It's simply a way to cut out the crap, learn a bit about what fuels you best, and hey, maybe even have fun in the process. So here is the deal…
Introducing, the pretty painless Quick Cleanup 2015!
Here is your formal invitation to take hold of your health, to cut out the crap, and to get back on the wagon of commitment with an easy plan to make change in your life. Because we all know (or if you didn't, now you do) that the catalyst of almost any health change in your life starts with food.
SO HERE'S HOW IT WORKS
1) You choose the timeframe: 7 DAYS, 21 DAYS, or 30 DAYS*
2) You choose a start date (whenever works for you, wherever you are in the journey), commit to sticking with this program for that time period (Use THIS hand dandy guide for tips on how to keep it simple and affordable), and IF you fall off or something on the list sneaks in, you start back from DAY 1 and onward you go!
3) For your designated time frame you eat NONE of the following (no exceptions):
added processed sugar of any kind (white sugar, syrups, honey, agave, stevia, etc.)
any and all wheat/gluten (includes wheat, flour, bread, pasta, soy sauce, muffins – read labels!)
all vegetable and seed oils (includes canola, soybean, safflower, sunflower, peanut, grape seed, vegetable, margarine, etc.)
all dairy products (includes milk, cream, cheese, butter, yogurt, whey powders, etc.)
all alcohol (yes, ALL of it)
4) You feel amazing, you have a community of support, and when the time comes you can gradually introduce those food items, see how you feel, and gain a whole new understanding of what your body needs to run at its best
5) After 8 days, add each item in, ONE AT A TIME, wait a day or two, see how you feel, and then move to the next. It's an amazing chance to learn about your body and what makes you the best version of you that you can be.
*Feeling good after 7 days? Sweet, keep it going! Take it to 21 or even 30. Sometimes, all it takes is a small commitment to make bigger change.
To show you how doable this challenge is, here is a quick, easy, and delicious recipe that you can enjoy even during the challenge!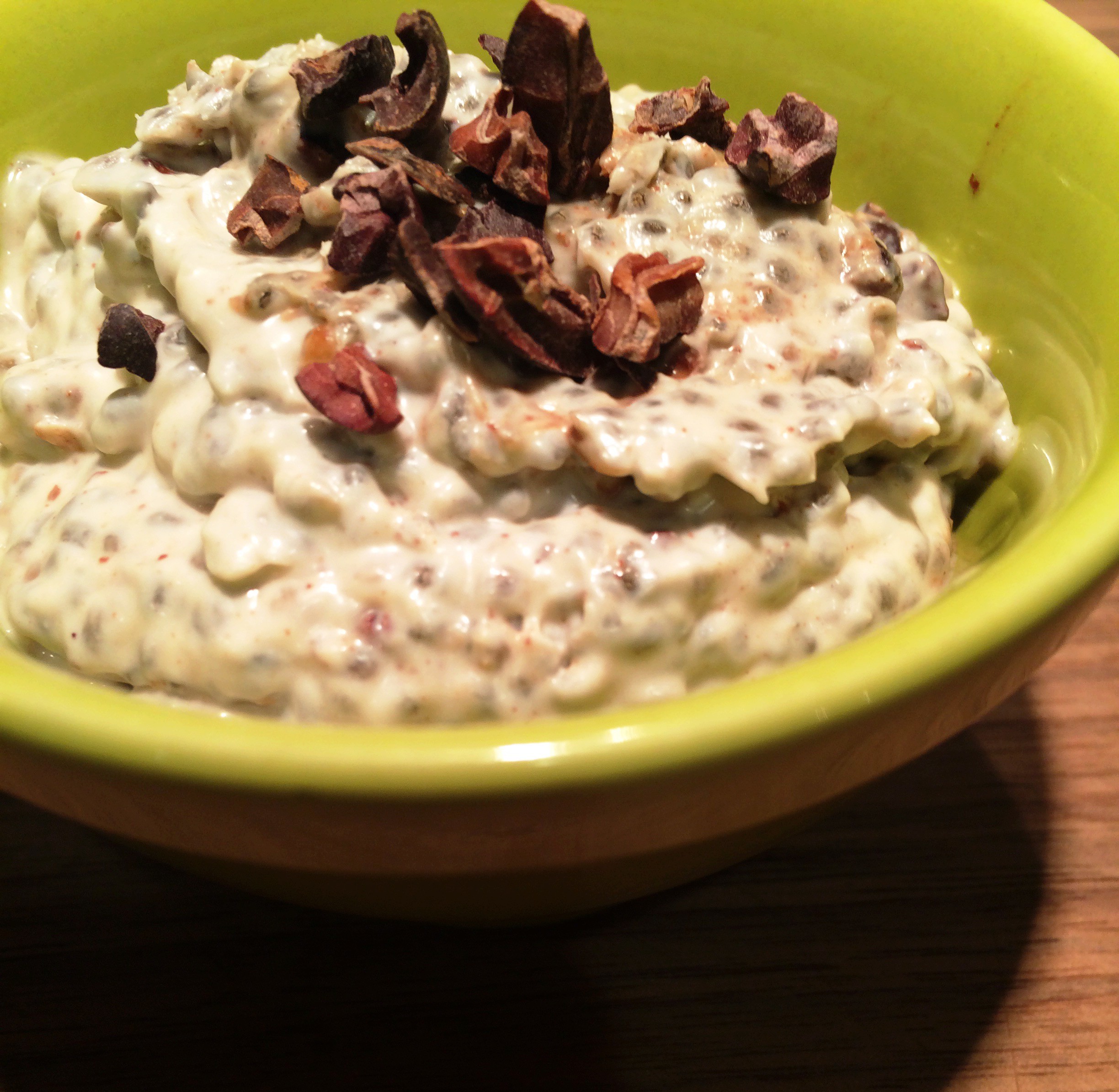 Almond Mylk Cocao Chia Pudding (GF, DF, QCA)
Servings: 4
Difficulty: easy
WHAT YOU NEED:
WHAT YOU DO:
blend milk and almond butter in a Vitamix or food processor until smooth
pour into glass Tupperware or mason jar, and add chia seeds and cacao nibs
put on the lid and shake it well
put in the fridge for at least 1 hour, shaking every 30 minutes or so*
enjoy topped with a sprinkle of cacao nibs… Yum!
*The longer it sits the thicker and creamier your pudding will be. I let mine chill over night for a delicious breakfast!
So are you in?
It's a step in the right direction. A way for you to get some of the junk out of your system long enough to see how you feel without it. If you're in, feel free to comment below, shoot me an email (laura@myradicalroots.com), or fill out this contact form.
And when you make something delicious, post a pic and tag #rrquickcleanup.
It always helps to be held accountable and to show your friends, family, and me how you are making it work.
Oh, and don't feel like starting today? Don't worry, the beauty of this is that you can start ANYTIME. Get some friends on board, pick a start date, and make a change you won't regret. The hubs and I do this about twice a year just to clean up, and we always feel great! Enjoy!