It's winter in California, which means that delicious apples are everywhere. For that reason, it's also the only time of year that I crave them. It's pretty impressive how the body can be so in tune with the seasons, even so much so that cravings follow suit. That crisp bite, the sweet aroma and flavor. Apples are all kinds of good. Every week, my husband and I get a bunch of apples from the "aesthetically challenged" bin at Farmers Market, and I get to put some creativity to work. I have been using them in all sorts of recipes, from walnut butter bacon apple omelets and fermented farmers market chutney to apple butter pumpkin pie and everything in between (stay tuned for more recipes like butter baked cinnamon apples and fermented apple cider), but I thought it was time to take this delectable fruit to the dinner table.
Winter is great for apples, yes, but it is also the perfect season for soul warming soups. When taking things savory, one of my favorite foods to pair the sweetness of apple with is the somewhat sweet, anise-like bite of fresh, seasonal fennel (apple fennel sausage anyone?). So, with that in mind, I went to work creating a perfectly creamy sweet and savory apple fennel soup, and the finished product is so good that we have had it 4 nights over the past week. The sunchoke (also abundant this time of year) adds texture and creaminess, plus plenty of fiber for a soup to keep you feeling full – mind, body, and soul.
See for yourself! Recreate. Share. Enjoy <3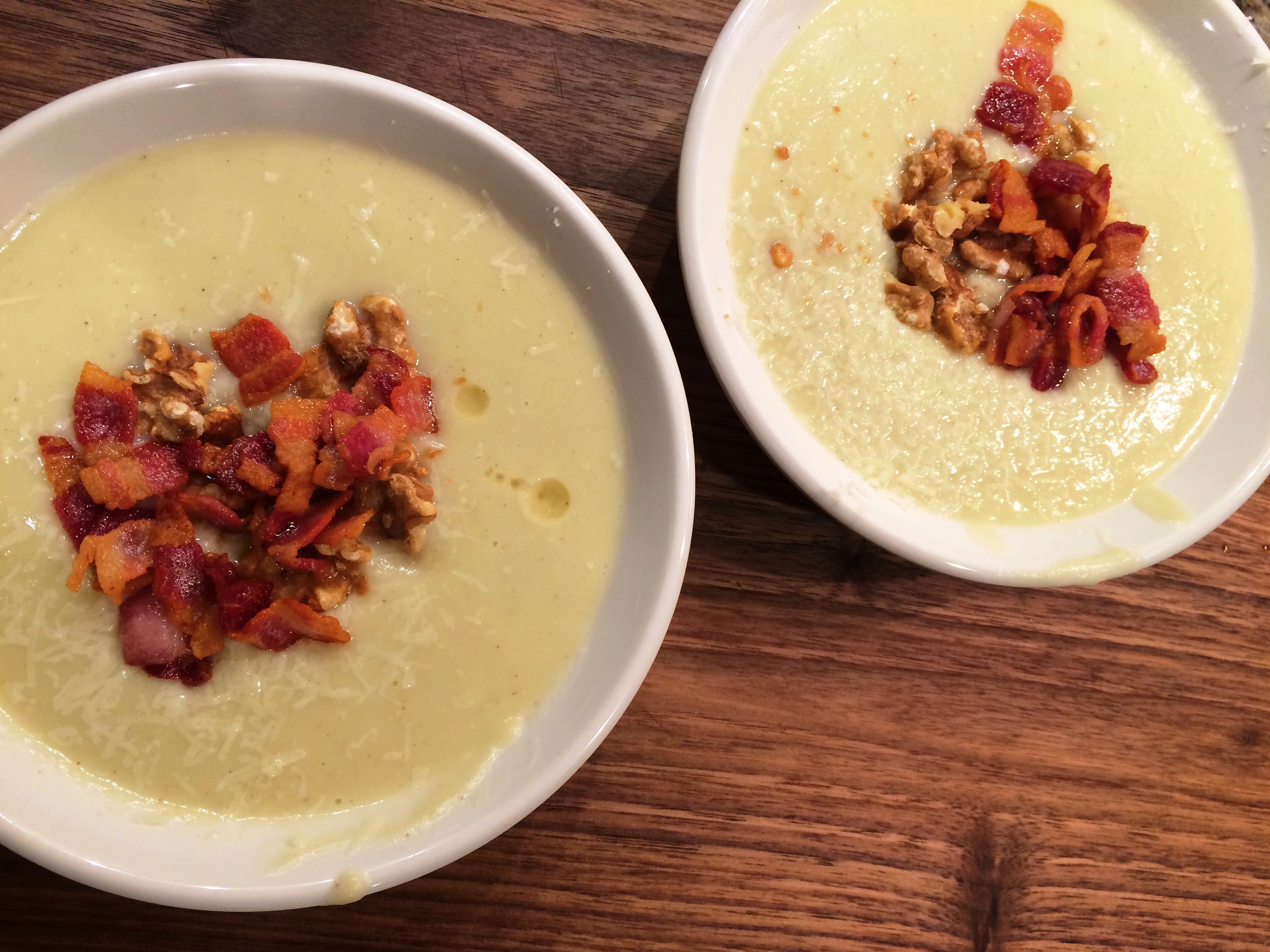 Creamy Apple Fennel Soup (GF, NF, DF)
Servings: 3-5
Difficulty: easy
WHAT YOU NEED:
2 TB grass fed butter or ghee (bacon grease, tallow, or coconut oil will work, but I love the flavor that the ghee adds to this)
1 shallot, diced
1 fennel bulb, chopped
2 organic apples, chopped
1 1/2 cups of cauliflower florets*
3 cups of homemade bone broth
sea salt and fresh ground pepper to taste
Optional – choose your toppings: Lewis Labs brewers yeast, raw cheese, maple glazed or roasted walnuts, bacon bits, etc.
*The original recipe used sunchokes or potatoes here. In a happy accident, I used cauli instead, and WOW, what an improvement. The flavors of the apple and fennel take the stage, and the texture is perfect. Enjoy!
WHAT YOU DO:
melt cooking fat in a sauce pan over medium heat
cook onion and fennel until soft
add apple, cauliflower, broth, and a sprinkle of salt and pepper, bring to simmer, cover, and let cook until everything is soft (about 15-20 minutes)
blend in Vitamix or blender until smooth (in batches if needed)
return to sauce pan and add a bit more salt and fresh ground pepper to taste
serve warm with desired toppings and ENJOY!
We had ours topped with grated raw aged cheddar cheese, bacon bits, and maple Old Dog Ranch walnuts. This is great as an appetizer, side dish, or in some cases a main meal. Enjoy! <3