This is a good one, a real original. What we've got here is a cool, crisp salad that works well in winter, filled with many of the flavors from my bacon apple nut brussies (a real hit with you guys), but with a unique twist.
Brussel sprouts and apples are in season right now, and I just can't seem to leave farmers market without bags filled with them. Maybe it's the friendly farmers who know me by name. Maybe it's the fact that I LOVE both. Maybe it's because we're going to blink, and this time of year will be gone and a whole new crop of new fruits and veggies will be in season. Most likely, though, it's all of these reasons.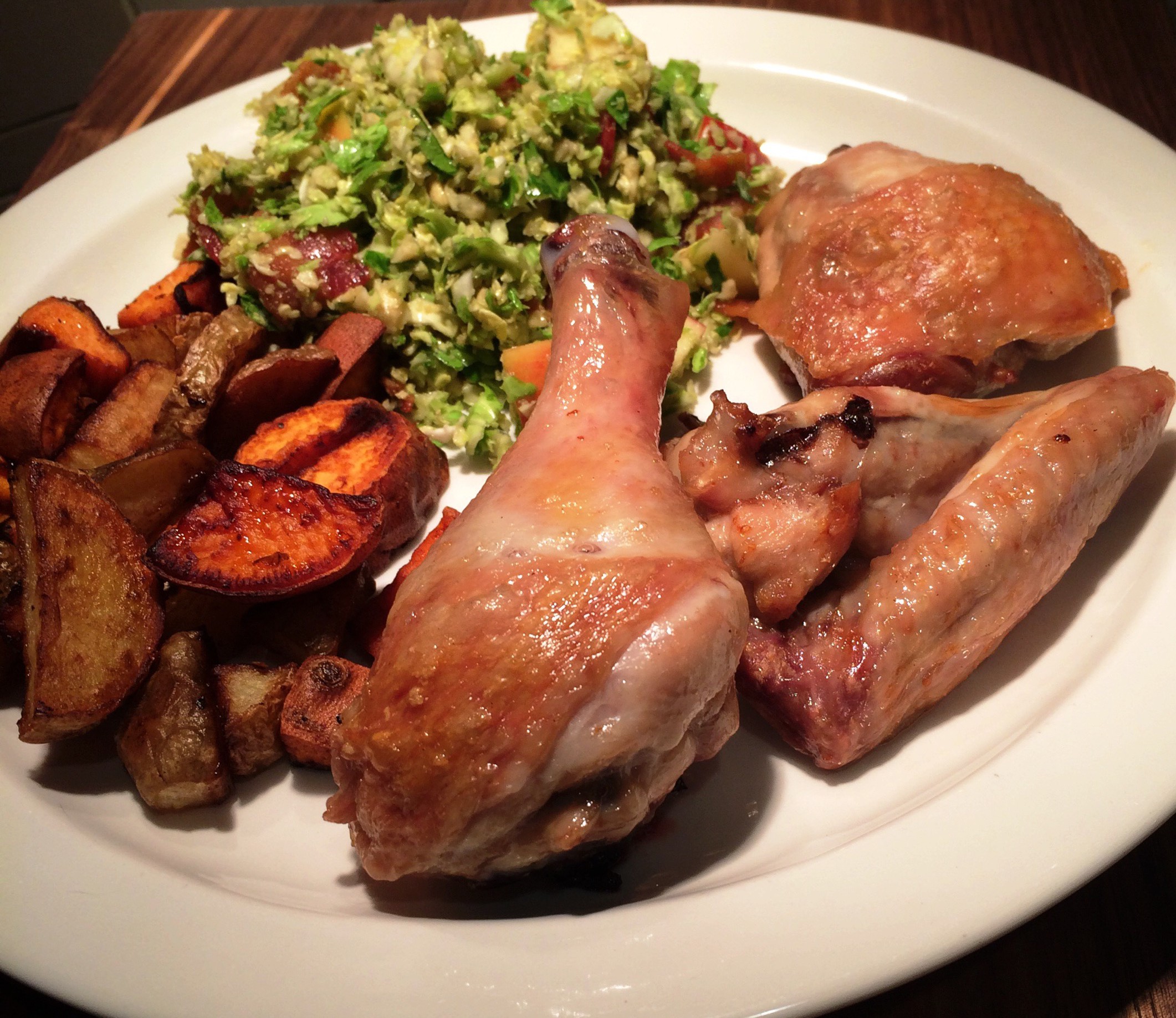 There's something really amazing about the combination of brussel sprouts, apples, and bacon. Add the sweetly soft but crunchy cashews and the salty crumbly cheese, and it's hard to beat this simple salad that can be whipped up in minutes. So grill up a steak or roast some crispy chicken, and sit down to a fancy meal that you can make at home because shaved brussel sprouts scream class, and no one will know how easy this was to make!
As always… Recreate. Share. Enjoy! <3
Shaved Brussie Bacon Salad (GF, DF option)
Servings: 4
Difficulty: easy
WHAT YOU NEED:
3 cups of organic brussel sprouts
1/2 cup raw cashews
8 strips of pastured bacon
1 large organic apple
2 oz raw crumbly cheese (optional)
1/4 cup olive oil
1 TB balsamic vinegar
salt and pepper to taste
WHAT YOU DO:
chop your bacon into bits, cook in a pan over medium heat until crispy
use a slotted spoon to move bits to a small bowl, and save your grease for later (always)
shave your brussel sprouts either with a mandoline OR by cutting the stems, tossing them into a Vitamix and pulsing until they're shaved (so easy, but not as pretty)
dump the shaved brussies into a salad bowl
now, put your cashews into the Vitamix, pulse until chopped, and add to the salad bowl
dice your apple and add that, along with your crumbled cheese and the bacon bits
mix olive oil and vinegar, pour over ingredients, and toss
sprinkle a pinch of salt and pepper to taste
serve and ENJOY!
Let me know what you think! Cheers.