MY husband and I have gotten really good at a once a week shopping trip to farmers market that lasts us the whole week. Usually, Friday and Saturday turn out some pretty awesome, creative meals as we work to use up whatever is left  before our Sunday trip. Soups turn to sauces, meals might look like slop (but taste like heaven), and sometimes, I am inspired to create some of my most loved recipes. This week, we had a lone zucchini left, and I had an itch to bake with chocolate on my mind. So with that, these cocoa nut butter zucchini muffins were born.
They're moist and flavorful from creamy sunflower butter, zucchini shreds, and a touch of pure maple syrup and organic cocoa powder. Plus, they've got the perfect crunch from organic Old Dog Ranch walnuts. Fool your friends and family into starting the day off with some veg by serving up these zucchinis in disguise. They last all week and are a great snack on the go.
But don't just read this and believe it. Give this simple recipe a shot, and as always… Recreate. Share. Enjoy! <3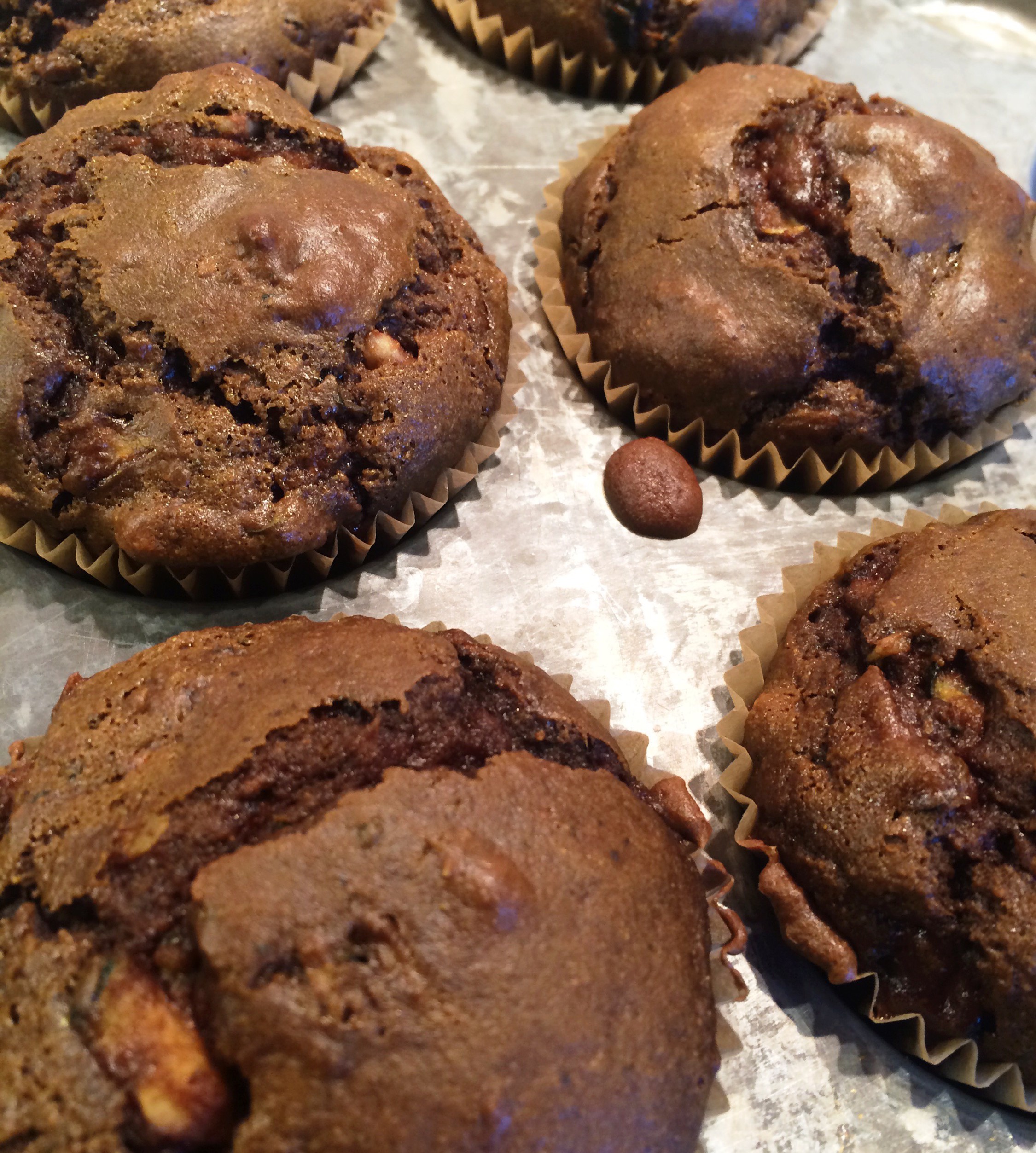 Cocoa Nut Butter Zucchini Muffins (GF, DF)
Servings: 8
Difficulty: easy
WHAT YOU NEED:
1 medium zucchini (be sure it's organic; HERE's why)
1 cup nut or seed butter of your choice (I went with organic sunflower seed butter*)
2 pastured eggs
1/4 cup maple syrup
1 tsp vanilla extract
pinch of salt
2 TB coconut flour
2 TB cocoa powder
1 tsp apple cider vinegar
1/2 tsp baking soda
1/4 cup chopped walnuts
*note: sometimes sunflower seed butter makes the muffins turn green. It's totally natural, and actually pretty damn cool. St. Patty's day anyone?
HERE are notes for my ingredients
WHAT YOU DO:
preheat oven to 375F
shred/pulse zucchini and press the water out with paper towels
combine nut butter, eggs, syrup, vanilla, and salt until smooth
stir in the coconut flour and cocoa powder until combined
fold in your pressed zucchini
and then fold in your chopped walnuts
use 1/4 to spoon the batter into muffin wrappers in a muffin tin
put them in the oven and reduce heat to 350F
bake for 20 minutes (until toothpick comes out clean)
ENJOY! These are great all week and a delicious breakfast treat <3
Let me know what you guys think of these. And as always, feel free to reach out with questions about this recipe or any. I am always happy to respond to comments or email. Cheers!