I can't think of any better way to start this blog post (a post celebrating three of my favorite things and three of my favorite farmers) than with a story for you guys. So here goes…
I'm standing in line to buy some of the most delicious organic apples (that I have picked from the "aesthetically challenged" bin because they're cheaper and have more character, with all the flavor), and the guy in front of me steps up to pay for his apples that are $2.50 a pound but worth every penny. When the lady (lovingly referred to by us as "the apple lady") tells him the cost, he looks at her in disbelief, and says something along the lines of, "this apple is a whole dollar??" Her response, in her perfect Italian accent, was priceless… "You think this is expensive? Why don't you just go buy a bag of candy for a dollar then? These apples are worth the cost. Health is worth the cost." He, of course, paid for the apples because they ARE worth the cost and moved on. I couldn't help but smile and laugh aloud, admiring her unapologetic response and the pride she takes in the literal fruits of her labor. After a morning like that, I came home inspired and extra appreciative of the apples that I bought from this little old lady with a big heart and passion for growing organic, nutrient dense foods to sell to others who care about their health and the health of the earth.
So, this recipe comes to you as an ode to my three favorite farmers at the Mountain View farmers market. The apple lady for her vivacity. Molly from Old Dog Ranch for being so cool, fun to talk to, and for never failing to make the most amazing walnut butter you'll ever taste (and who just happens to be named after to dog that Old Dog Ranch is named after – how cool is that?). And Lisa from Pasture Chick Ranch for her uncanny ability to know how I am feeling and cheer me up when I need it, for being the first stop on our farmers market walk every week, and for renewing my love for poultry because I finally found true pastured chicken (whole birds, hearts, livers, heads, feet, and eggs) that tastes and nourishes like it's supposed to.
I appreciate every farmer, of course, but these three have become more to me. They're friends. They're role models. And they are people passionate about nourishment – mind, body, and soul. So cheers to you three and a lifetime of doing what you love, early Sunday mornings and all <3
I bring to you an omelet of Pasture Chick eggs, Old Dog Ranch walnut butter, and our apple lady's delicious aesthetically challenged apples (with bacon thrown in because… well, bacon). It's basically like an apple pie melded with bacon that you can eat for breakfast, and it's so damn good. So as always… Recreate. Share. Enjoy!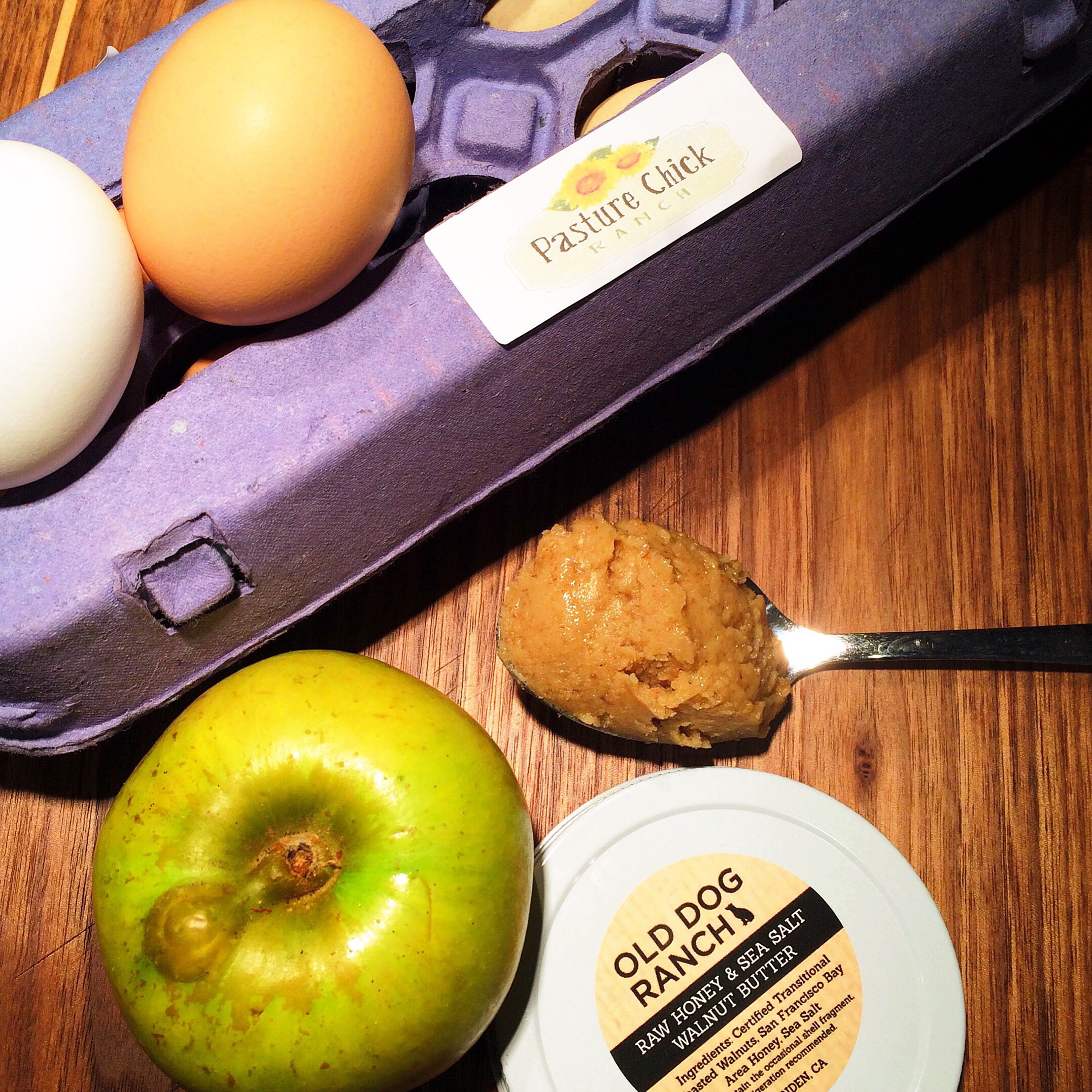 Walnut Butter Bacon Apple Omelet (GF, DF, QCA)
Servings: 1
Difficulty: easy
WHAT YOU NEED:
1 apple, diced
1 tsp cinnamon
1/2 tsp ginger
1/2 tsp vanilla
1/4 cup water
2-3 slices pastured bacon
3 pastured eggs
2 TB organic walnut butter
WHAT YOU DO:
put apple, water, cinnamon, ginger, and vanilla in a small sauce pan and bring to boil
once boiling, set to simmer and leave lid slightly open to let apples cook down, stirring and crushing down occasionally (about 30 minutes or until soft and chunky with the water mostly gone)
dice your bacon and cook in a pan over medium heat
once your bacon is crispy, use a slotted spoon to move to a plate, and pour your grease into a ramekin for later use (but leave enough to cook your omelet in)
whisk your eggs (you can use a bit of coconut milk too) and pour into bacon greased pan
using a spatula, lift edges and move pan around so that you the eggs cook evenly into the diameter of the pan
once eggs are almost cooked through (just the top is still jiggly), add most of your apple sauce to just one half of the eggs, leaving about 1/4 inch diameter
then add a layer of your walnut butter, topped with a sprinkle of cooked bacon
fold your eggs over, and press down lightly
let cook for about a minute, and then flip
once your omelet is cooked through, plate, and then top with any remaining apple sauce, a bit of walnut butter, and a sprinkle of bacon
Enjoy!! This leaves me satiated and happy for hours. <3