This recipe is not only delicious, it just so happens to be beautiful too! What makes this chutney even more awesome is the story that inspired it. My husband and I love New Years Eve, but we don't love to celebrate like most. Instead, we make a point every year of getting "off the grid" each year without internet, TV, and this year, even without a clock. We found a truly kick ass destination in Mendocino, California at Pegasus Farm (thanks to AirBnb), where we slept with our pups in a perfect little shack with a permaculture run farm just steps outside our door, an outdoor shower, and a raging fire pit to sit around and laugh, eat, and enjoy the passing of 2014 and the celebration of all that 2015 would bring. As we sat around the fire with our gracious host, Milo, watching fresh grabbed mussels cook over an open fire, we talked about life, sustainability, self reliance, and the importance of knowing where our food is grown, how it's prepped, all while enjoying each bite.
I left that farm inspired in so many ways, with an enlivened fire to continue my current path, with a new appreciation for getting away, and with all kinds of new recipe ideas. This recipe is a fruit of that inspiration after dipping fresh mussels in Milo made combination of olive oil, fermented vinegar, and some amazing fermented herbs. This recipe was made in an effort to use what's seasonal and available to combine some fabulous flavors, and turn the final product into a nutrient dense, delicious powerhouse of a chutney. This actually turned out so good that it's been my husband's go-to snack when he's craving something sweet (especially since we are currently doing the Quick Cleanup 2015). It's a great combination of sweet and tangy, with apple and tangerine (abundant winter fruits), plus carrots, kale, figs, and walnuts, along with some of my all time favorite spices.
Give it a try, get your probiotics in, and enjoy every bite. It's worth the wait. Enjoy! <3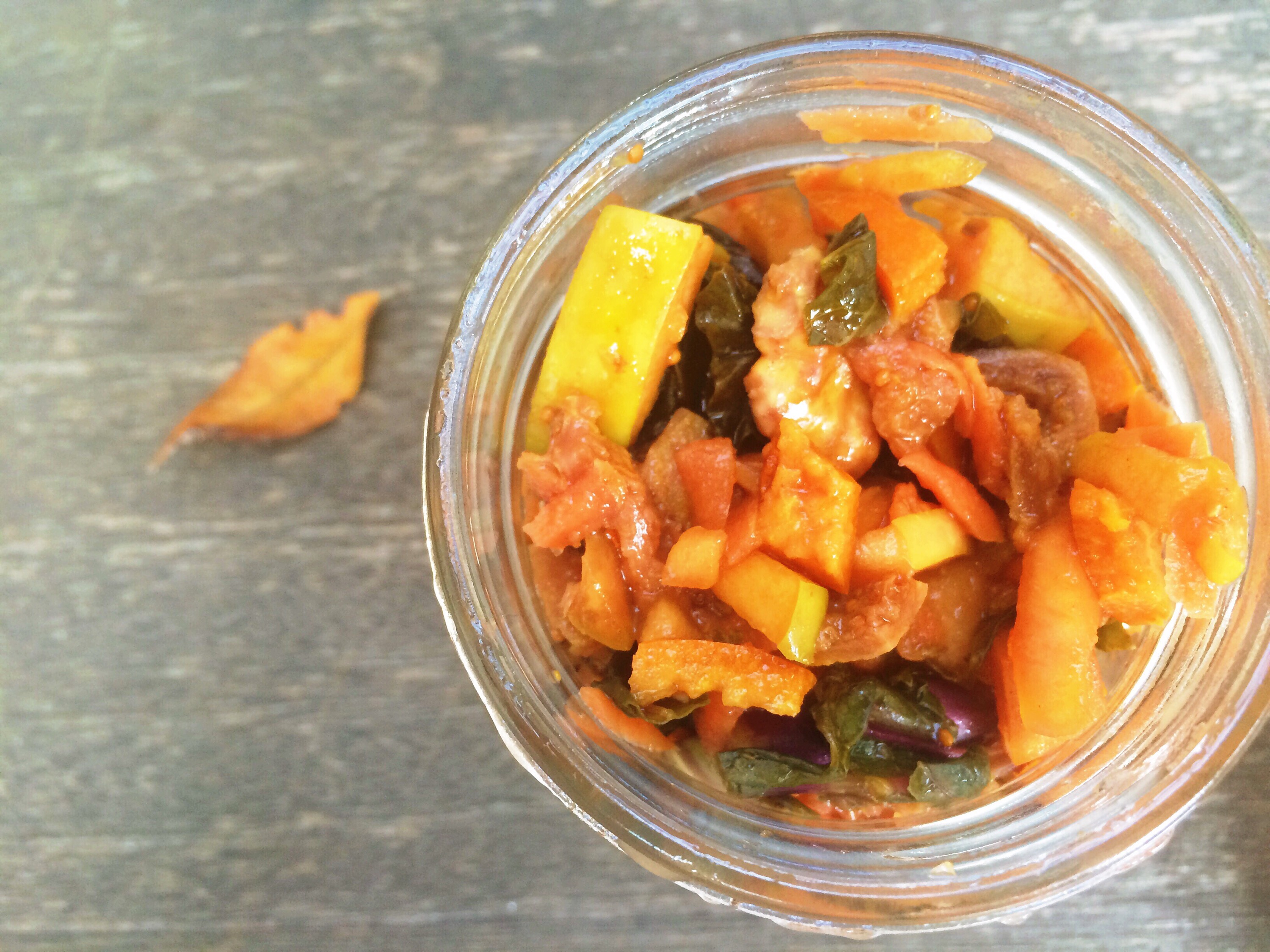 Fermented Farmers Market Chutney (GF, DF)
Servings: 8
Difficulty: easy
WHAT YOU NEED:
2 apples, diced
1 cup chopped organic kale
1 large carrot, grated
1/2 cup dried figs
1/2 cup raw walnuts, chopped
2 tsp grated ginger
2 tsp ground cinnamon
2 tsp ground turmeric
2 tsp sea salt
1 cup filtered water
1/4 cup fresh lemon juice
WHAT YOU DO:
mix all dry ingredients in a large bowl or crock pot
press mixture down pact
mix lemon juice and water and add to fruit until the mix is fully saturated but not submerged
cover the mixture with a cheese cloth (or a thin cloth) and cover with a lid
leave on the counter at room temperature for 2-4 days, checking for desired fermentation level and bubbles.
once fermented, store in air tight mason jars in refrigerator
Recreate. Share. Enjoy! <3
Let me know what you think of this one! It's a great way to start getting more probiotics in. Heck, you could even lovingly trick your loved ones into eating fermented foods and enjoying it. Cheers!
Questions? Comments? Let me know…
[contact-form-7 404 "Not Found"]