This year is off to a crazy, albeit awesome, start, and I am taking my clean eating with me. Busy days are no excuse to let food quality go to the wayside. In fact, the busier life gets, the more important it is to eat nutrient dense foods because they keep energy levels high, mood up, productivity at its upmost, and sickness at a distance.
This quiche is perfect for when times get busy. Don't get me wrong, it's delicious fresh and is fantastic for a weekend brunch with family and friends. BUT, it's also great for a busy week as a quick meal on the go. I am not advocating for eating meals without taking time away from whatever task is at hand to enjoy every bite. What I am suggesting, though, is preparing meals ahead, so you CAN take time to enjoy a nutritious and delicious meal without the concern of whether or not you'll have time to make it.
So, just say no to microwaving frozen meals. And just say yes to this fantastic quiche. It's grain free, dairy free, and sugar free. Plus, you can sub in whatever is in season as the filling and enjoy this delicious quiche for breakfast, lunch, and/or dinner any time of year!
Quiche for All Seasons
Servings: 6
Difficulty: moderate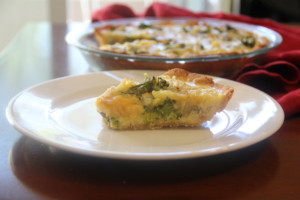 WHAT YOU NEED:
for the flaky crust:
for the filling*:
6 slices pastured bacon or a few organic breakfast sausages
1 cup squash or potato of your choice, cubed or grated (I've enjoyed butternut squash and fingerling potatoes)
1 cup of your favorite dark leafy greens or veggie (I've used kale and broccolini)
salt and pepper to taste
6 pastured eggs
1/3 cup coconut cream or organic half & half
cheese of your choice (I've used organic feta, goat cheese, and raw jack)
*you can truly use whatever veggies are in season, so have fun, mix it up, and keep it seasonal and local whenever possible!
WHAT YOU DO:
preheat the oven to 325 F
mix coconut flour, arrow root flour, and salt, and then pour in butter or coconut oil, and stir by until combined (it will be quite soft)
now, add 3 TB water and continue stirring until you have a dough
flatten into bottom and sides of a pie dish with your fingers, poke holes in the bottom with a fork, and bake for 15-20 minutes until it's lightly golden
meanwhile, cook your bacon or sausage in a large pan over medium heat
once the meat is cooked and the pan is filled with its delicious grease, add your potatoes and cook until lightly browned
add greens and seasonings, stir and cook until wilted
in a big bowl crack your eggs and add cream, and then whisk until fully scrambled
once your crust is ready, put filling ingredients into crust, sprinkle in cheese (if using), then pour whisked eggs over filling (you might need to let some of the egg settle before pouring it all, so it doesn't overflow)
turn up the oven to 350 F, and bake the quiche for 25-30 minutes (start checking at 20 minutes, and cook until you can poke it with a knife and no liquid comes out
let cool for 15 minutes before slicing
Enjoy! This is great fresh hot, cold, or reheated
Let me know what you think! I'd love to hear your feedback on this one. It's become a quick favorite at our house.
Want to get in touch? Just comment below!
Cheers!
♡ Laura