Use code Radroot20 through March 31, 2017 for 20% off any Base Culture order!
Ever wake up in the morning and just crave a piece of toast? Ever get a hankering for a bit of banana bread or perhaps even a brownie? No matter how long we've been doing this real food diet thing, it's only natural to want a treat on occasion, to want to listen to a craving when it strikes, or to want to celebrate a special occasion with family and friends even though we might have dietary restrictions. I actually think that the longer one eats a real food focused diet, the better understanding she has of the importance of these treats for overall well-being.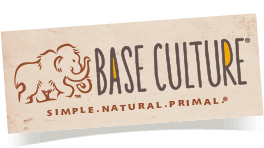 Enter Base Culture, a women-owned, paleo friendly company on a mission to create real food goodies to fuel our lives with energy, joy, and flavor. The company began when one woman's life was changed by switching to a real food diet. And when Jordann Windschauer saw an immediate reduction in physical fatigue, mental stress, and sleepless nights from this change, she knew she had to make it a lifestyle, one that included the reality of treats and joy. Sourcing the best ingredients, Jordann created a line of treats that took off like wildfire. Her Paleo CrossFit buddies, gluten-free friends, and even family with no dietary restrictions couldn't get enough of these sweet snacks. That's how Base Culture was born.
And now, I am also hooked, enjoying a slice of unbelievable real food bread in the mornings or a bit of my now-favorite banana bread when the mood strikes and feeling good all the while knowing I am enjoying real ingredients created by a company of women on a mission to improve lives and the planet. Everything the company does now is in reflection of the humble beginnings to remind us to stay persistent in their passion and mission: Paleo goodies that keep you grounded in the best lifestyle on Earth.
So let's talk about what these goodies are and how you can get your hands on them. I'd like to start by pointing out that I am now 5 months pregnant, and when Anna from Base Culture reached out at about my 3-month mark, the timing could not have been more perfect. I was in serious need of some nourishing, energy dense food that my belly would love. Anyone who's been pregnant (or known a pregnant woman) knows that food aversions and cravings are real, and immersed in morning sickness but needing energy dense, balanced snacks to keep me up and going, Base Culture could not have been more perfect. And that's where the love affair began.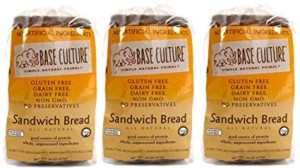 The treats are not only insanely satisfying, but they are also nourishing; the sandwich bread, for instance, is very low in sugar, dense in healthy fats, carbs, and even micro-nutrients. The eggs include high quality protein along with vitamins D and B12, plus phosphorus, riboflavin, and leucine. The coconut oil gives a dose of MCTs for an awesome energy boost and saturated fats for cell repair and growth. The real butter provides omega 3 fatty acids and vitamin K2. The golden flaxseed gives us fiber. And the sea salt provides trace minerals for electrolyte balance and hydration. This is a food I can feel good eating every day.
This is the case for all of Base cultures products. Real food ingredients built into a delicious sandwich bread, my most favorite banana bread to date, pumpkin bread, muffins, almond butter, granola, snickerdoodle cookies, and even an incredible almond butter brownie for those extra special occasions. Clearly some of these are truly treats and should be enjoyed as such, but thankfully Base Culture sweetens with pure honey – none of that fake crap you'll find in so many sweets (and imposter real food junk) on the market.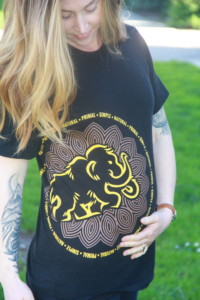 When I was especially "morning" sick (more like all day sick), the sandwich bread actually saved my mornings. A quick toast of a piece (or 2) under the broiler in my oven, a drizzle of raw honey, and a sprinkle of pink Himalayan sea salt, and I had the perfect combination of a little protein, energy dense (both quick and slow digesting carbs for quick glucose and slow-digesting energy), healthy fat, and trace mineral rich salt to keep me hydrated and electrolyte balanced. Also, the balance of carbs, fat, and sea salt first thing upon waking is really beneficial for thyroid health, which is especially important right now as this little bean inside me soaks up everything it needs from my system. The bread has become a routine for me, even now long after the morning sickness has subsided. It's a great quick fuel source first thing in the morning to stabilize blood sugar quickly while I wake up my brain, journal, and get to emails. I then followup an hour or so later with a balanced breakfast before hitting the gym and enjoying the day. I am so grateful for a product I can trust for me and the little girl growing inside. Base Culture is certainly Baby Roots approved!
Now, on to the other delicious treats. So far, I've tried the Sweet Banana Bread (oh. my. god.), which is unparalleled in my opinion, the incredibly moist and delicious Apple Cinnamon and Banana Nut Muffins (can't wait to try the Blueberry and Chocolate Espresso next), and the Almond Butter Brownie. Each is super delicious and the perfect treat for those once a week cravings or special occasions. I loved sharing bites with my husband (because I am a good wife), and seeing his face light up with each bite.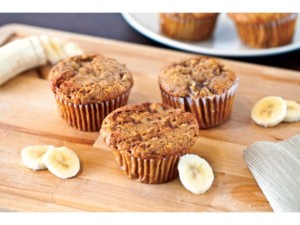 Cravings are a real thing – whether pregnant or not – and instead of ignoring them and living a life of restriction, which we all know will eventually end up in falling off the imaginary "wagon" and even worse creating a feeling of failure or inadequacy, we should actually listen to those cravings (they are telling us something after all). In doing so, though, we need to treat ourselves with real options that not only provide joy, but also real food nourishment. Enjoying life and the flavors that come with it allows for a real food lifestyle rather than a short-term diet. That's why I love this company – Base Culture provides the treats and snacks that did not exist when I first started this lifestyle. Now, with a baby on the way I know I won't have time to bake as often I might like, so I'll always have some Base Culture goodies on hand for when the need strikes and some sandwich bread on hand for fueling when both baby and mama are hungry. No doubt, I'll have a care package at the hospital to help refuel after labor and delivery too! It's nice knowing that I'll feel good knowing every bite is good for my soul, but also my body.
Life is about balance and staying grounded. There is no such thing as "perfection" but there is such thing as choosing happiness and treating yourself and your loved ones with care and nourishment. Enjoy, my friends!
And now it's even easier to ENJOY! Use code: Radroot20 between January 30, 2017 and March 31, 2017 for 20% off any order on the Base Culture website. And if you're into Amazon, you can also order there! And even better, I am bringing you my first GIVEAWAY of 2017. One lucky winner will get a Base Culture muffin bundle complete with 3 of every muffin type they have. Base Culture has 4 delicious muffin types, which means the winner will be sent a total of 12 muffins, PLUS an awesome shirt!
Here's how to enter the BASE CULTURE GIVEAWAY:
That's it, guys. Super simple. You have until Thursday, February 2nd to enter. The winner will be announced Friday the 3rd! Questions about the product or how I incorporate them into my daily life? Leave a comment below. Thanks for reading and thanks for being you.
♡ Laura