Cravings. Let's talk about them. ALL I WANT IS PORK (and salmon, always salmon). A couple weeks ago, my husband and I were in San Jose and stopped into the new Whole Foods. They had a whole glorious "paleo bar" and right smack in the middle was the most delicious smelling pork ever. Falling apart. cooked in pineapple juice. Absolutely delicious. I made a big salad, plopped in a small scoop of white rice, and then added a glorious spoonful of melt in your mouth pulled pork juices and all.
Naturally, I've been thinking about said pork ever since, and so this weekend when I finally had a bit of free time, I went to work in the kitchen to create my own version from scratch. I must say, I think I beat Whole Foods (sorry, not sorry). I took the inspiration and gave it a pineapple bbq twist, and I'm super happy I did. Plus, the time spent in the kitchen over the weekend gave me some time to be mindful and grateful for all I have.
These are tumultuous times we are living in, and while I refuse to turn a blind eye or to be silent about the things I feel passionate about, it's important to take time for perspective and finding moments of joy and peace every day. The kitchen is one place that does that for me. When I get in there and start creating, well, it's like art we can eat, and it gives my mind and heart a break. It is also good for this kiddo growing inside me. Both creating in the kitchen and escaping to nature are beautifully peaceful and meditative to me. This past weekend was filled with both, and though I might feel sad, mad, and heartbroken when I tune into what's going on, I also know that I have the freedom to speak my mind and show how I feel about it and I see all of the others who are doing the same – both through word and action. I have hope. People are inherently good. That's about as political as I'll get on here (aside from expressing my thoughts about voting with your dollar and choosing sustainably), but this blog is as much for me as it is for you guys, so thanks for the quick vent session.
Ok, back to food. Pulled pork to be exact. This is the most delicious pulled pork I've made, and I am thrilled. Want some even better news to brighten your week? Pineapple pulled pork pizza. Yep, I said it. The night after we enjoyed this recipe fresh over white rice with a salad on the side, we made pineapple pulled pork pizza with Simple Mills pizza crust. Amazing. Just amazing. The beauty of buying 4+ pounds of pastured pork shoulder is that it makes LOTS of pineapple pulled pork to last all week. So give this one a shot and continue to enjoy the benefits for days to follow. I've included directions for both stovetop prep and Instant Pot prep, so take your pick. And the timing of this couldn't be more perfect because this is probably the easiest Super Bowl food you could possibly prepare. It's mostly set and forget and will be a crowd pleaser, whether your company eat paleo or not. Enjoy!!
Paleo Pineapple Pulled Pork (GF, DF, NF)
Servings: 12
Difficulty: moderate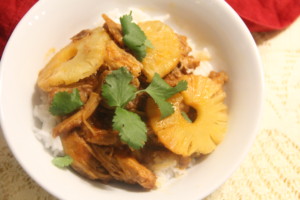 WHAT YOU NEED:
pineapple pulled pork:
3-4 lb boneless pastured pork shoulder roast
1 TB of garlic powder
lots of sea salt
black pepper to taste
15 oz can sliced organic pineapple, undrained
1 cup organic pineapple juice
pineapple bbq sauce*:
2 cups pineapple juice
1 TB ground ginger
1 TB granulated garlic
1 tsp sea salt
1/2 tsp chili powder
a couple turns of black pepper
3 TB apple cider vinegar
1 cup organic ketchup – I used this brand, but you can also find a homemade paleo version here from Against All Grain
3 TB coconut sugar
1 TB maple syrup
to garnish:
fresh or canned pineapple chunks or slices
fresh chopped cilantro
*we loved this pork so much that I made it again the first day we ran out and actually left the sauce out entirely so the pork would be more versatile. We had it over rice with fried plantains and a salad and it was amazing just plain. So, if you're looking for super simple meal prep, you can skip the bbq sauce and just have slightly sweet, deliciously savory pineapple pork all week long to add to sandwiches (on this bread perhaps?), salads, stir fries, or straight out of the tupperware.
WHAT YOU DO:
trim fat from pork (optional) and poke it all over with a knife and season all sides with garlic powder, lots of sea salt (really cover it), and pepper
set your roast in the pot, pour the juice and a can of pineapple over the top, cover, and then it's cook time – set the Instant Pot to the "meat/stew" setting, and let her rip OR in a dutch oven, let the pork cook covered medium low on the stovetop for 8 hours
if you're using the Instant Pot, do this right away; if you're using the stovetop, start this with about an hour or so to go: to prepare the pineapple bbq sauce, combine the pineapple juice and spices in a medium pot and bring to a boil
reduce this to a simmer and let cook for about 10 minutes, stirring frequently to avoid burning, then stir in remaining ingredients and cook on low for another 15 minutes, again keeping an eye on it and stirring frequently
when the timer is done, remove from pot, cut into chunks, and begin to shred. If it does not shred easily, put it back in the pot for another 10 minutes (Instant Pot) or 30 minutes dutch oven, and then shred)
remove the liquid from the pot, saving the pineapple chunks, then add back your shredded pork and enough bbq sauce to cover the meat; top with the pineapple, and either set your Instant Pot to warm or set your dutch oven on low heat and let cook for 10-20 minutes, stirring occasionally (and tasting often because yum)
Enjoy nice and warm however you like! We had it the first night over organic white rice (no, not paleo) with a citrus side salad. Night two, we enjoyed it on a paleo pizza crust. And night three we had the pork with fried plantains (recipe coming soon) and a salad!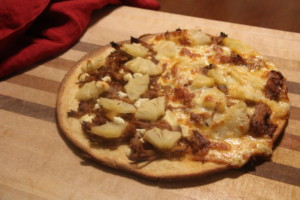 I would love to hear your thoughts on this! How'd you serve your pulled pork? I have to admit the pork with all the sauce and sweet pineapple with just enough melty goat cheese was absolutely incredible (my half has goat cheese, and hubs went with lots of provolone). Pineapple pulled pork pizza for the win!! I hope you loved every bite as much as we did. Cheers to pork cravings, pineapple, and peace of mind.
♡ Laura