Considering I'm just 8(ish) weeks out from being a mom (woah), I'm starting to wrap my mind around the craziness that will ensure, especially in the first few weeks of breastfeeding, changing diapers, holding baby girl, and likely sleeping very little. Somewhere in there, it will be imperative that I eat. You know, food is fuel after all, and pretty soon I will actually be feeding two (note: the whole "eating for two" thing is not real during pregnancy). Oats are a proven lactation supporting food, and they contain energy dense glucose which is going to be essential to keeping mama going in those first weeks.
Whether you're breastfeeding or not, though, oats (if tolerated) are a pretty good fuel source on the go. Are they as nutrient dense as root veggies? Not necessarily. But paired with a nourishing diet, oats can be a great fuel source and, for many, are easy on the gut. Bonus points when those oats go into a no-bake recipe that take minutes to put together and can be eaten pretty much anytime anywhere without batting an eye. Extra bonus points when those oats are paired with nourishing collagen peptides and healthy fiber and fats from chia, hemp, and nut butter. Now, you've got an all-in-one snack on the go that's perfect for the busy new mama AND the busy active non-parent alike. Enter latest recipe: my no-bake peanut butter protein & oat energy balls. They might be a mouthful to say, but they're not a mouthful to eat. Small bite-sized energy balls made in just two simple steps with ingredients you likely already have – ready to fuel whatever life throws your way. I hope you enjoy!
No-Bake Protein & Oat Energy Balls (GF, NF)
Servings: 8
Difficulty: easy
WHAT YOU NEED: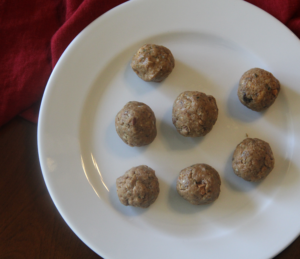 1 cup organic rolled oats
1/2 cup organic nut/seed butter of your choice (I've been using cashew butter because it's my favorite and sits best with this baby)
2 tb Vital Proteins collagen peptides
1/4 cup pure maple syrup or honey
1 tsp vanilla
1 tb organic hemp seeds
1 tb organic chia seeds (read about the benefits of this little seed here)
2 tb dark chocolate chips (optional)
WHAT YOU DO:
dump all ingredients (except optional chocolate chips) into a bowl and stir until well combined OR to make things even easier, throw it all into a food processor and pulse until blended
add chocolate chips, if desired, and fold them in until evenly dispersed
roll ping pong sized balls, place on a plate, and leave in the fridge to harden up
after 30 minutes, ENJOY! Store in the fridge and eat as desired for a week or so (if they last that long)
Would love to hear your thoughts on this one! Until baby comes, I've been enjoying one or two with my morning coffee before heading to the gym. Saving money on energy bars and fueling this body and baby right. Cheers! Live rad, friends.
♡ Laura