Can you tell I am on an oat kick? Gluten free oats have been working really well for me this pregnancy, and I love the energy boost they provide without a bunch of sugar. Sustained energy, delicious flavor, gluten free goodness. I'm in. These pancakes are a product of the inspiration from my good friend Taz. She makes a banana and egg pancake that's really incredible, especially for how simple it is.
I decided to take that concept and beef it up a bit with grass fed beef collagen peptides (see what I did there) and gluten free oats. These pancakes have beautifully balanced macros (protein, carbs, and fat), and they taste amazing. I am already having my husband practice (not that it's needed for this easy recipe) for when baby comes because I have a feeling these pancakes will be a daily staple thanks to their simplicity, deliciousness, and balance. Plus, they'll be great fuel for breastfeeding.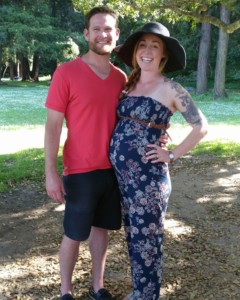 Speaking of baby. We have just about 7 weeks to go. Woah. We had such an amazing time celebrating the coming arrival of our little bean with friends and family over the weekend. I highly recommend a co-ed baby shower that does NOT contain shower in the name. First of all, the dad is half responsible for the growing human and deserves love too. Second, SO. MUCH. FUN. We BBQd under a giant oak tree on a gorgeous Santa Cruz day with our favorite people. And this little bean kicked and wiggled all evening long after we wrapped up. I am pretty sure she could feel the love all day. Our hearts are full. And now, my belly is full as a write this and finish up the last bites of my pancakes, whipped up in minutes and gobbled down just as fast.
Cheers to simple pancakes every day of the week! ♡
Banana Oat Pancakes (GF, NF)
Servings: 1
Difficulty: easy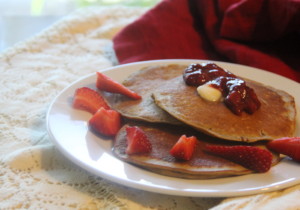 WHAT YOU NEED:
WHAT YOU DO:
set griddle to medium heat
put all ingredients (except toppings) in your Vitamix or blender and blend until smooth
add ghee or coconut oil to griddle top
pour sand dollar sized circles of batter on griddle
once bubbles show through, flip and let the other side cook about 1-2 minutes
add toppings and ENJOY!
Let me know what you think! I'd love to hear your feedback. And don't forget to tag me (@laura.radicalroots) in your Instagram posts. Happy pancaking.
♡Laura