It's berry season!! I am clearly about as excited as it gets when it comes to berries. I so look forward to Saturday morning beach walks followed by farmers market coffee and shopping. Fresh, bold, delicious berries are always at the top of my list. This past weekend, we bought a whole bunch of strawberries because they were just that good, and we quickly put them to good use – fresh out of the carton, atop the most delicious yogurt, and then this morning, with a stroke of genius, I came up with this compote.
I've been enjoying these delicious pancakes at least a few times a week with some locally made jam. While the jam is pretty clean, it still contains organic sugar, and I'd rather not take in sugar on a daily basis. Plus, we had a whole bushel of strawberries to put to use. Since strawberry jam is one of my favorites, I decided to give a whirl, and low and behold the outcome was glorious. Two simple ingredients (plus a little water) and boom. Delicious, subtly sweet strawberry compote for your topping pleasure.
A small dollop of this compote on a stack of banana oat pancakes with a bit of melty butter… well, it might as well be heaven. And it's super nourishing too. Fresh, farm to table compote in two easy steps. Enjoy!!
Super Simple Strawberry Compote
Servings: 8+
Difficulty: easy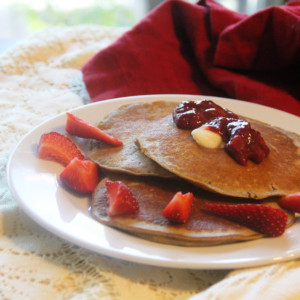 WHAT YOU NEED:
1 cup quartered strawberries, stems removed
1 TB coconut sugar
3 TB filtered water
WHAT YOU DO:
set a small sauce pan to high heat
throw in all ingredients and bring to a boil
reduce heat to low and cover
let the strawberries simmer for 10 minutes
remove lid, set to low/medium and let liquid reduce out, stirring occasionally so it doesn't burn
Let me know what you think! How do you use your compote? I'd love to hear your ideas. Enjoy, friends, and as always, LIVE RAD!
♡ Laura