One of the perks of moving back to California and settling in Santa Cruz is that we've gotten a chance to reconnect with our good friends here. Two such friends include Arne and Constanze Heissel, the brains and passionate hearts behind Living Cultures Superfoods yogurt, which is without a doubt the most delicious yogurt you'll ever taste (with or without dairy), and the most nourishing too.
These guys have put their blood, sweat, and tears into perfecting this probiotic-filled, 100% junk free, deeply nourishing superfood yogurt, and it's finally available for the world to enjoy (or at least our local world for now). Let's talk for a second about what makes this yogurt so amazing, and then I'll give all the details as to where you can find it.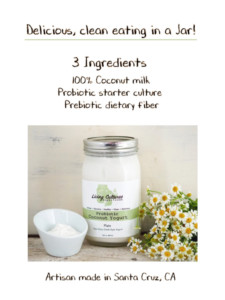 12.5 billion active and alive probiotics including the intensively researched and published super strain Lactobacillus Acidophilus DDS-1 per two ounce.
Compliant with the following diets: Paleo, Vegetarian, Ketogenic, Whole 30, Weston A. Price Foundation and many more.
High quality Prebiotic (which is a unique addition to yogurt, and allows the probiotics to really do their job)
Tapioca based, with well researched published benefits and FDA GRAS status.
High in saturated fatty acids and medium chain triglycerides (MCT). Only 0.01% Cholesterol!
All that with only THREE ingredients:
Organic 100% coconut milk
Probiotic starter culture
Prebiotic dietary fiber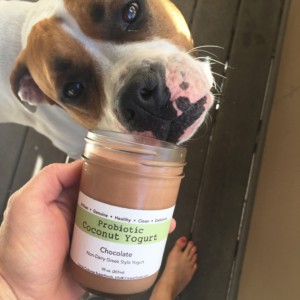 I've talked a lot about probiotics in a variety of posts, but here's what's important to know: when it comes to probiotics, not all are created equal. For example, probiotic supplements pale in comparison to real food probiotics. The greatest source of probiotics is from fermented and cultured foods such as this probiotic coconut yogurt. To have an effect on our well being, the probiotics need to survive the passage to the intestines and many probiotic supplements may not survive the acid environment as our natural stomach acids destroy a large percentage of the bacteria before they are able to reach the intestines. It is in the yogurt culturing process that the probiotic bacteria become active and acidic, and are then given a media that our body can digest and more effectively pass the bacteria onto our gastrointestinal tract. By fermenting the cultures in a slightly acidic environment, they are then better able to withstand the intensity of our stomach acid, allowing for a higher percentage of the probiotic bacteria to then pass onto our intestines. Many capsule probiotics are dormant and not alive, therefore they are unable to withstand the intensity of these digestive acids more die off before entering the gastrointestinal tract. This yogurt provides the best real food option I've seen on the market, especially for those who suffer from any sort of dairy intolerance. Kali approves, and SO DO I!
What's also amazing is that a little bit goes a very long way. I just have about 1-2 oz a day with some frozen organic blueberries, for a satisfying and nourishing treat. And now you can too (my local-ish friends, at least)!! Here's where to find Living Cultures Superfoods coconut yogurt:
They're adding location frequently too, so check out their website for more! Oh, and before I forget to mention, you will probably want to get your hands on this yogurt now that fall is here because there is pretty much NOTHING better than a dollop of Living Culture's Superfoods coconut yogurt atop a slice of paleo pumpkin pie. OH MAN.
Enjoy, friends! And as always, live rad.
♡Laura