Snacking: the topic brings up some deeply rooted emotions and opinions in people. Here's mine summed up into one simple concept. I think it's best to eat 4 meals a day made up of a balanced ration of deeply nourishing protein, carbs, and fat. Here's the reality: life gets crazy, and snacking is often times unavoidable – to get us to that next meal without turning hangry, to prep for a long workout without filling our bellies too much, to make it through a long day of travel, and to help us avoid reaching for junk food or stopping for poor quick meal options when we're in a pinch. So to sum it up, create nourishing fresh meals when it's possible; be prepared with nourishing balanced snacks when it's not.

Enter Paleovalley. Providers of well-balanced, deeply nourishing, delightfully delicious snacks that saved me on multiple occasions during this pregnancy journey of mine. I've had the great pleasure of working with the folks over at Paleovalley for the past few months, of trying their products, and of developing a relationship with a group of people who truly care about the quality and power of the food we put in our bodies. And they've taken that care and put into some truly delicious, convenient, balanced, and nutritious snack items.
One thing I've found in the paleo snack world is that more often than not, snacks are loaded with real food carbs (often dried fruit) and plenty of fat (often from nuts). One of multiple things that sets Paleovalley apart from other companies is that their snacks and products have quality animal proteins – an essential macronutrient that tends to either be in minute amounts or missing entirely from so many other options out there. From their Beef Sticks (yum) and Superfood Bars (yum yum yum) to their non-denatured whey protein (so good), you get super high quality protein with the full host of amino acids from properly raised, 100% grass fed cows.
Take their mission statement as testimony: "At Paleovalley, our mission is to help people reclaim vibrant health. We provide products that prioritize nutrient density in an industry that prioritizes everything else. We believe that every dietary choice and every added ingredient is a powerful opportunity to love and care for oneself." From my experience, this holds very true.
So, let's talk a bit about what I've tried, what I recommend, and what I am giving away to one lucky winner that could be YOU!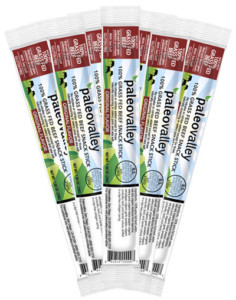 The first thing I tried was the Paleovalley 100% grass fed beef sticks. I suffered from some pretty severe morning sickness for about half of my pregnancy, and these little sticks came in very handy. Protein is an essential component of fending off that nausea because it helps to balance insulin levels. This is great for pregnant mamas, but also for EVERYONE else. Balancing insulin by eating balanced macros at each meal helps to maintain balanced insulin levels and avoid chronically elevated cortisol, which helps to maintain leaner body mass, stave of cravings, and improve performance. Plus, these sticks were recently awarded one of the top snacks of the year by Paleo Magazine (pretty cool yes?). Here's more info on the sticks:
Our 100% grass fed beef is raised in the U.S.A by family farmers focused on using rotational grazing practices and creating lush, green pastures free of chemicals and pesticides. They never use antibiotics, steroids, or hormones!
Made with only organic spices to give the beef sticks a delicious, savory flavor. Most other products use conventional spices that have likely been sprayed with herbicides and/or pesticides.
This is what truly sets the beef sticks apart. Paleovalley uses old world methods of fermenting the sticks so they are shelf stable without the use of chemicals or questionable ingredients. Virtually all other similar beef snack products use GMO corn-based citric acid encapsulated in hydrogenated oils to process their products. Thanks to this fermentation process, each stick contains 1 billion probiotic CFUs!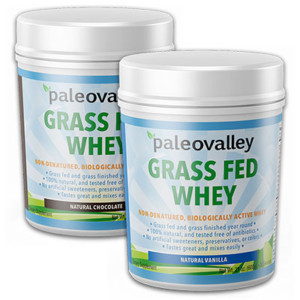 Next up is the delicious non-denatured whey protein powder (I tried and loved the vanilla). High quality whey protein has also been a lifesaver this pregnancy, and it's something I've used for a long time now to supplement my nutrition when I train or when I travel and can't get my hands on high quality meats. I can tolerate whey very well, and it's a super useful way to get in the protein I need throughout the day. My favorite way to enjoy this protein is blended with some almond milk and poured over cold brew coffee on ice (currently decaf). It makes for the most delicious, nourishing, protein-filled vanilla latte (but better). Here's more on the whey:
Non-denatured, biologically active whey
Made from raw milk from grass fed cows
Hormone-free
Provides all essential amino acids in correct balance
Promotes glutathione production (your body's master antioxidant)
Improves lean muscle strength
100% gluten free, soy free, GMO free, hormone-treatment free, pesticide and chemical free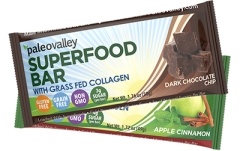 The last Paleovalley snack that I got to try was the Superfood Bars. And holy hell are these good. The chocolate is especially amazing, but I am totally a chocolate girl. With healthy fats (like those from brain fueling MCT oils), deeply nourishing superfoods (see below), natural fiber, and 100% grass fed collagen with quality protein and healing benefits, these bars are a total slam dunk. I keep one in my bag everywhere I go (note: the chocolate one will get a little melty in the heat due to the 100% cacao chocolate chips – yum). Aside from the flavors, here's what to love:
The bars are crafted using the highest quality, nutrient-dense, and antioxidant-rich superfoods! Most other food bars contain cheap, low quality ingredients, large amounts of refined sugar, gluten, soy, corn, oats, legumes, denatured proteins, "natural" flavors, and preservatives. That's why we wanted to make an on-the-go snack that contains nutrient-dense, organic superfoods such as acerola cherry, spirulina, chlorella, blueberry, turmeric, ginger, coconut MCT oil and more while avoiding all of the low quality ingredients found in other bars.
100% Grass Fed Collagen – Collagen is the most abundant protein in our bodies and is found in bones, muscles, skin, blood vessels, tendons and the digestive system. Traditional diets contained much larger amounts of collagen than the standard diet of today. It has been shown to help heal the gut, reduce join pain and degeneration, improve skin health and elasticity, boost metabolism, and contains amino acids that protect cardiovascular health. Their collagen is sourced from healthy, grass fed cows.
Brain and Heart Supportive MCT Oil – The bars contain MCT oil derived from organic coconuts which is a superior brain fuel because MCTs convert to ketones within minutes of ingestion and rather than being stored as fat. In multiple studies, ketones have been shown to be both neurotherapeutic and neuroprotective. Your heart health can also derive benefits from MCTs since human studies have shown them to help lower total lipid levels and improve cardiovascular health.
(NOTE: Giveaway has ended)
Ok, now to the extra fun part – a GIVEAWAY FOR YOU! You can win 10 (yes 10!) of each 100% grass fed beef stick flavor – that's 40 beef sticks – by playing along below. There's multiple ways to enter, and the more ways you enter, the higher your chances of winning. Giveaway ends May 15, 2017. Have fun!
You'll win 10 of each:
Original flavor
Jalapeno flavor
Summer Sausage flavor (my favorite)
Garlic Summer Sausage flavor
Here's how to play: 
And don't forget! USE CODE: radicalroots now through May 31, 2017 for 30% off the entire website at paleovalley.com
Enjoy, friends! And stay tuned for a post all about the incredible powers of the Paleovalley Grass Fed Organ Complex coming soon!
♡ Laura