So, the word is out. I am pregnant. And we are THRILLED! Read more on how cool this is here. I have to admit, though, that the first 4 months of this pregnancy were some of the toughest of my life. I was very sick… All. The. Time. The fact that morning sickness starts with the word "morning" is actually infuriating to me now considering it was 24/7 sickness for me, but I am getting over it, especially when I have mornings like today when Rusty and I shared a half batch of my winningest waffles. This is actually huge because first, I didn't wake up nauseous and frantic to get something (very plain and boring) in my belly a 5am and second, because I ate more than a few bites without wanting to throw up. Enjoying food again makes life so good and makes it so that I really get to cherish these final 5ish months with just my husband in our new home, where I can now cook to my heart's content. It also means I can get out and hike, play at the beach, and workout at our CrossFit gym again. Win. Win. Win.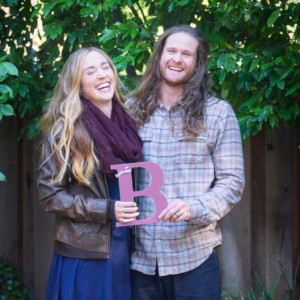 Speaking of a kid on the way, from what I've seen from my all-star mama friends, the key to making nourishing foods work after a baby arrives is all in the planning. So, meals like this one are going to be more common moving forward. Why? Because one pot/pan meals like this one are delicious fresh out of the oven, are easy to freeze for meals down the road, and taste great as leftovers with each passing day. This bake is simple to put together with just a little bit of prep work (and can be made even simpler by buying pesto rather than making it), you've got a delicious, nourishing meal to feed the whole family and yourself. Whether you're a parent, a partner, or a single person, this meal is great for you. Who doesn't want to put in a little work for lots of pay off? No one I know. So I hope you enjoy my first recipe back from the dark side (aka the worst nausea ever). It comes to you with love, a happy belly, and a kitchen that finally smells good to me again. Enjoy! XoXo
Pesto Spaghetti Squash Bake
Servings: 6-8
Difficulty: moderate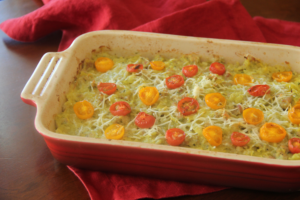 WHAT YOU NEED:
for the pesto:
1 cup fresh basil, roughly chopped
3 garlic cloves, roughly chopped
1/2 cup cashews (soaked 3-4 hours)
1/2 cup pecorino romano (you can also use parmesan, but I like pecorino because it's made with sheeps milk which I tolerate beautifully)*
1/2 cup olive oil
for the bake:
1 large spaghetti squash
1 lb of pastured Italian sausage removed from casing OR just buy the ground meat of your choice and season liberally/to taste with Primal Palate garlic and herb
1-2 tb olive or avocado oil (depending on how big your squash is)
1-2 tsp. clean Italian herb blend (my favorite again is Primal Palate garlic and herb)
1/3 cup pesto (see above, or use store-bought but check ingredients!)
1 cup coarsely grated pecorino romano cheese (see note above on cheese)*
sea salt and fresh ground black pepper to taste
6 or so cherry or heirloom tomatoes, sliced thin
*You can actually make this entirely dairy free. It will not be exactly the same, but the soaked cashews give an amazing creaminess to the pesto. If you leave out the dairy, just add 1/4 cup+ of pesto to give it more creaminess. And enjoy!
WHAT YOU DO:
preheat oven to 400F, cut squash in half lengthwise, and use a sharp pointed spoon to scrape out seeds and stringy gunk that's around the seeds, then rub inside surface with a small amount of oil and sprinkle with seasoning before putting it face down on your baking sheet

roast your squash, starting to check after about 40 minutes and removing when squash is still firm but strings apart fairly easily into spaghetti-like strands

 while squash roasts, heat a pan over medium heat and cook your sausage until cooked through, then remove from heat

while sausage cooks and squash still roasts, prepare your pesto (if you bought store bought skip to step 5): in a food processor, finely chop basil, garlic, cashews and cheese. Then, slowly drizzle in olive oil, and season to taste with sea salt and pepper

once your squash is done, scrape out strands into a glass bowl or baking pan and discard skins. Gently mix in pesto, most of coarsely grated cheese, and sausage, then season with salt and fresh ground black pepper

Move mixture into a gratin or casserole dish and top with remaining cheese and sliced tomatoes

bake 20-30 minutes (still at 400F), until mixture is slightly bubbling and cheese is melted and starting to brown

Serve warm and ENJOY! This also freezes well and is great as leftovers kept in the fridge for 3-5 days. Yum!
I hope you love this one, guys. I am working on creating more simple dishes that work well as leftovers in early preparation for when this little one arrives. Eek! We're only about 5 months out. Thanks for reading along, sharing my recipes, and being authentically YOU.
♡ Laura