As I mentioned a few posts ago, I am not a huge supplement person. In my opinion, we can get most, if not all, of the nourishment we need from real, organic, properly raised food. There are, however, some key exceptions to this, and with that being said only a few key supplements that fit the bill. Keep reading for a discount code just for my readers!
Once such supplement is a product I was just recently introduced to, and like any other I write about here, it's one I've tried, tested, and totally approve of – one that's made from real food (not synthetic) and plays a part in providing supplemental nutrition for an already nourishing diet. Rootz Nutrition fits the bill, creating real food, high quality, sustainably sourced supplements for athletes, leaving out all of the crap and including all the good stuff. The company sent me some pre-workout and post-workout supplements to try, and after just one week, I'm sold.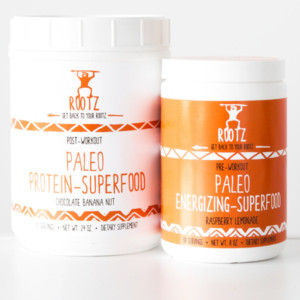 Here's what I used:

Paleo Energizing-Superfood
This is the pre-workout supplement that gives a little (or a lot) of extra umph to my workouts. Now, I haven't used any sort of "pre-workout" since my globo gym days when I would put down some bright red kool aid flavored antifreeze. This new supplement is about as far away from that as you can get with no jitters, plenty of energy, and lots of good stuff to boot.  It's a blend of nutrient dense plants and herbs to provide sustained energy and the proper nutrients for high intensity exercise. This product is loaded with vitamins and minerals, and contains plant-based energy enhancers that will provide an extremely powerful boost for an amazing workout, and a sense of wellbeing that will continue well after taking this product. I mean that too. The energy this supplement provides seems to last all day without a crash of most other caffeine sources.
Here's what you get:
Energy and Strength Blend: Yerba Mate Extract, Guarana, Tongkat Ali Root, Rhodiola, Schizandra Berry, Asian Ginseng, Ginko Biloba
Metabolism Stimulation Blend: Raspberry, Lemon, Matcha Green Tea, Yohimbe Bark
Vascularity and Anti-Inflammation Blend: Beetroot, Turmeric, Ginger, Devils Claw, Cinnamon
Superfood Blend: Goji Berry, Blueberry, Acai, Maca Root, Bee Pollen, Royal Jelly
Paleo Protein-Superfood
This is the post-workout protein. I've recently cut back on dairy significantly, and it is really working well for me. Cue this Rootz protein. Typically, I would just head home after I workout for a good meal, but these days, life has gotten busier, and I'm also coaching class right after I workout. This makes having a supplement really key both because I'm training first thing in the morning and because I can't get a meal in right away. The protein powder contains egg white protein, hemp protein, and sacha inchi protein, combined with a blend of all natural superfoods to provide delicious post-workout nutrition that promotes the growth of lean muscle mass and overall health. This product contains only the cleanest ingredients available. The Paleo Protein-Superfood contains a full spectrum of nutrients that will rejuvenate your body and get you ready for your next workout. After some time off dealing with some back stuff, I'm back at it and having a solid supplement to help me recover is crucial.
Here's what you get:
Protein Blend: Egg White Protein, Sacha Inchi Protein, Hemp Protein
Electrolyte Blend: Coconut, Banana
Superfood Blend: Chia Seeds, Flax Seeds, Maca Root, Bee Pollen, Acai, Goji Berries, Blueberries, Royal Jelly
Green Detox Blend: Spirulina, Chlorella, Kale, Spinach, Broccoli
Other Ingredients: Natural Chocolate Extract, Natural Vanilla Extract, Stevia Leaf, Cinnamon, Natural Sea Salt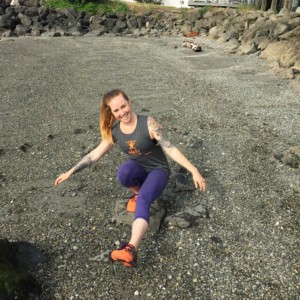 So, with an increase in training and with summer fast approaching and more time spent in the great outdoors hiking, climbing, backpacking, and adventuring, I am THRILLED to have found two new supplements for sustained energy, quick recovery, and effective nourishment all in one. The protein is especially yummy too (let's just say the detox blend is hidden beautifully). It's reminiscent of my favorite childhood cereals but loaded with  nutrition.
Time to try it for yourself! Use code: radicalroots at checkout HERE to get 10% off any order.
Give it a try and let me know what you think! Cheers to fueling right, supplementing when needed, and loving on your body and soul.
♡ Laura