Hi friends! I have another kick ass giveaway, and as usual, it's for products that I am insanely jazzed about. If you follow me on Facebook (Radical Roots), Snapchat (laura.bruner) or Instagram (@radical.roots), you've probably seen a number of posts on the newest products to come from the geniuses over at Vital Proteins. Let's talk about what they've got up their sleeves, and then let's chat all things supplementation because there is a myriad of opinions out there, so why not share mine too?? Keep reading for giveaway details at the end of this post!
Ok first, collagen genius… here's the latest from the folks at Vital Proteins:
This advanced protein utilization formula combines collagen with grass fed whey protein, fermented cocoa bean flavanols, probiotics, and natural hyaluronic acid to achieve a premium protein blend for improved athletic performance. The grass-fed, pasture-raised collagen peptides are combined with coconut water in a proprietary natural process to preserve the flavor and nutrition while adding no additional sugars, artificial sweeteners, or maltodextrin. In short, this real food supplement offers quickly utilized, bioavailable protein to fuel recovery with no added sugars. I love it because there is absolutely no fake sugary taste, and very little sweetness in general, which makes it awesome for mixing into your favorite shakes.
Some things to love:
Increased athletic performance
Improved hydration (coconut water)
Increased amino acid absorption
Improved recovery
Increased protein synthesis
Increased joint flexibility
Supported blood flow to muscles
Quickened protein delivery to the body
Here's what you get:
15,000 mg of grass-fed, pasture-raised collagen – increase athletic performance & reduce injuries
80 mg of natural hyaluronic acid – helps keep cartilage flexible and strong
2B CFU spore probiotic bacillus coagulans – supports protein absorption and recovery
375 mg cocoa flavanols – helps deliver protein to the body
Here's how I use it in my post workout shake:
Cocoa Coconut Collagen Whey Berry Shake
Servings: 1
Difficulty: easy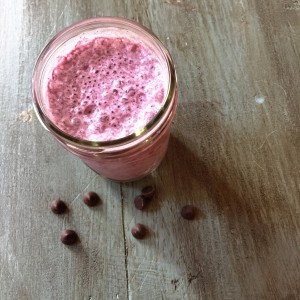 WHAT YOU NEED:
1 serving of cocoa coconut collagen whey
1/2 cup berries of your choice (I mixed black and blueberries)
1/2 cup raw milk or organic coconut milk
1 TB pomegranate powder
1/2 cup filtered water
a few ice cubes
WHAT YOU DO:
add everything to your Vitamix and blend
Enjoy right away or keep in the fridge overnight for a quick go-to after your morning workout.
Let me know what you end up doing with this goodness!
As I've mentioned before (see this post), collagen is the most abundant protein in the body and is a key constituent of all connective tissues. Collagen provides the infrastructure of the musculoskeletal system, essential for mobility. Peptides are short chain amino acids naturally derived from collagen protein. These natural peptides are highly bio-available, digestible and soluble in cold water, which is so awesome because there's no flavor, no texture, and you can add it to pretty much anything. Vital Proteins' Marine Collagen is made from the scales of fresh Non-GMO Project verified snapper wild-caught in the Pacific Ocean near Hawaii using sustainable harvesting. I love these marine peptides because intake of collagen from the wild-caught snapper, ensures the cohesion, elasticity and regeneration of my skin, hair, tendon, cartilage, bones, and joints. I add it to coffee, tea, yogurt, and shakes. It's pretty rad to have an option aside from beef collagen peptides so that I can change things up (also great for those of you pescatarians out there too).
Some things to love:
More youthful skin, healthier hair, and stronger nails
Healthy strong bones
Happy healthy joints
Weight maintenance and protein on the go
Healthy immune, digestive, and central nervous systems from natural glycine
Here's what you get:
Marine Collagen, Wild-Caught, Non-GMO Project Verified
From fresh wild-caught snapper
Non-GMO Project Verified
Promotes youthful skin, healthier hair, and stronger nails
Supports joint health
Natural glycine promotes healthy immune, digestive, and central nervous systems
Here's my favorite way to use it:
Protein Packed Oats and Yogurt (GF)
Servings: 1
Difficulty: easy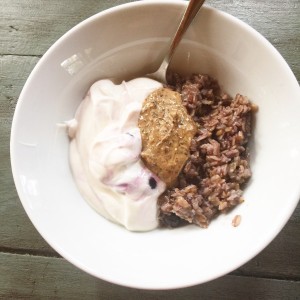 WHAT YOU NEED:
WHAT YOU DO:
bring water to a boil and stir in 1 scoop peptides and sea salt
add oats and 1/2 of the berries, reduce to simmer, cover, and cook 10 minutes until you reach desired consistency
meanwhile, add remaining peptides scoop and remaining berries to yogurt and stir
scoop oats into a bowl, leaving room for yogurt
add yogurt, top with honey and nut butter
Enjoy! Let me know what you guys think.
Thoughts on supplementation 
I discussed Vital Protein's Liver Pills most recently at length in this post, where I shared the impact this supplement has had on my health (I love them so much, actually, that I am giving some away AGAIN at the end of this post). Now, I want to take a quick minute to talk supplementation… There are at least a million supplements on the market touting this or that "amazing" health benefit, weight loss promise, or performance enhancement. So where do I stand on all that? If it's not a real food with real nutrients from a responsible company, it's not worth your time, money, or trust. Most of these companies are feeding on peoples' insecurities. With today's marketing and constant influx of images of the "perfect" body, folks start to think they need to look a certain way to be worthy. The reality? You are worthy right now, no matter what you look like, what the scale says, or how much you can back squat. So instead of trying to find the quick fix supplement to try to fix a problem that does not exist, nourish yourself, love yourself, and treat yourself right. I don't think you necessarily need any supplementation, but what I know that you do need is a nutrient dense diet to fend of sickness, to promote wellness, and to treat yourself as the worthy human you are. So why do I reach for and promote Vital Proteins? Because I find these products to be a convenient way to get in nourishment when life gets crazy and perhaps I need it most. I find collagen and liver pills to be immensely beneficial to my health, and I simply can't get them in without supplementation. And I find Vital Proteins to be a responsible company who puts the needs of its customer and the planet above their own gains. So there's my spiel. Take it or leave it, but know that I'll never promote any product that I don't whole heartedly believe in. Now read on for a GIVEAWAY!
♡ Laura 
---

Here's what you'll win:
(1) Botlle of Vital Proteins Liver Pills
(1) canister of Vital Proteins Marine Collagen
And here's how you can get your hands on this uber cool prize between 4/17/16 – 4/23/16:
Each of the above that you do is one more entry to win! Winner will be chosen entirely at random on Saturday, April 23rd.