The weather is getting warmer, the days are getting longer, and I am craving burgers. But first, a bit of somewhat sad news: Rusty and I have decided to take a little break from dairy – not because I think dairy is inherently bad (in fact, good quality, especially raw, dairy is incredibly nutrient dense) – but because I like to switch things up on occasion, take foods out, and reintroduce to see how I feel. I am constantly experimenting so I can better understand nutrition, my body, and the impact foods have on me.
So now that that's out of the way, back to burgers. I started craving burgers like crazy, and to be honest, I didn't think a burger was a burger without some melty cheese on top. There's something about the texture of creamy, melty cheese atop a medium rare burger that makes my heart melt (swoon). With this whole no dairy thing in full swing and this crazy craving for burger bowls, I knew something had to be done. I had recently received a sweet package from my friends at Primal Kitchen Foods with some seriously kick ass mayonnaise options (their original is delicious, and their chipotle lime takes it to a whole new level). I've been using it for dressings and tuna or salmon salads. And upon opening the fridge, an idea came to me… how about a creamy aioli to top a burger? Solution found.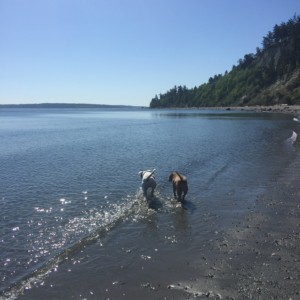 The combination of the flavorful garlic balsamic aioli in this dish along with the gooey egg yolk make for a mouthwatering experience that was so good we had it three nights in a row. But don't just take my word for it, give it a go yourself. I used elephant garlic, which has a much sweeter taste than regular garlic. I thought this paired nicely with the sweet tartness of the balsamic. Summer is coming, which means more burgers for us and more beach frolicking for those two pups. Now, even if you're dairy free, you can enjoy the creamy delectability of a burger done right on a summer night. Cheers!
Garlic Balsamic Aioli Burgers (GF, NF, DF)
Servings: 60
Difficulty: easy
WHAT YOU NEED: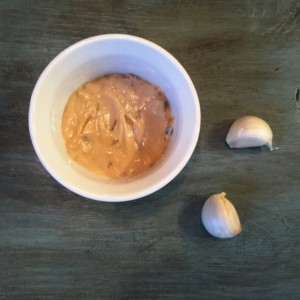 for the aioli:
for the burger bowls:
organic mixed greens
1 avocado
1 lb grass fed ground beef
1 tsp organic garlic powder + sprinkle of sea salt and pepper
3 pastured eggs
WHAT YOU DO:
preheat the oven to 375F on convection roast
remove papery outer lining from garlic head, drizzle with olive oil, and wrap the whole thing in foil
roast for 30-45 minutes until garlic is soft and then cool for 10 minutes
remove garlic clove skins and mash
stir in mayonnaise, balsamic vinegar, and sea salt.
now heat a griddle over medium-high heat
add garlic powder, sea salt, and pepper to ground beef and mix, then divide into three balls
in a salad bowl toss greens and sliced avocado with dressing
flatten beef balls into patties and place on griddle, grilling a few minutes until juice comes through the top of the patty – then flip and do the same (less time for medium rare like I like it)
once you flip the patties, begin to fry your eggs
divvy the salad out onto three plates, top with burger patties, smear each with a dollop of aioli, and then top each with a fried egg (sunny side up)
ENJOY every bite!
I would love to know what you think. Summer is coming, and that means it's time for burger bowls. If you snap a picture, tag me! @radical.roots. Happy warm weather food season!
♡ Laura