Have I mentioned that I love my Instant Pot? Of course I have, but in case you missed it: I love my Instant Pot. This thing has made life so much easier, and because we are in the midsts of big change, busy schedules, and a remodel… well easy is pretty necessary. This recipe time is quartered thanks to my Instant Pot, which means I can make it for a super easy weeknight dinner without batting an eye. Just a beautiful grass fed roast and a handful of simple ingredients that you probably have in your kitchen, and you've got a meal that will feed the family and provide lunch tomorrow. Winning!
Ok, enough about that. You know what I love more than that silly pot? Let me tell you… I love the ladies of Survive and Thrive – a group of ladies who have battled cancer and have come together in solidarity to share their struggles and to learn how to love themselves through communication, nourishing foods, and movement. It's a beautiful thing.
So you're probably wondering what my Instant Pot and the fabulous women of S&T have in common. Well, they've come together this week in a remarkable way because I got to bring my Instant Pot to these ladies for a cooking demo where we discusses (and enjoyed) the healing power and fabulous flavors of real food nourishment. I spent my Wednesday evening preparing a meal and educating these kick ass cancer survivors about how real food can also be preventative medicine and how making small changes in their daily lives can make an astounding difference and potentially fend of cancer recurrence (see more on that HERE).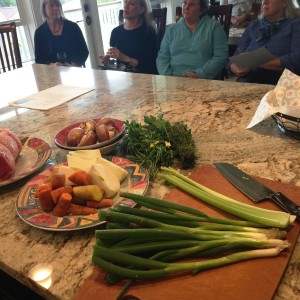 They were all ears (and all tastebuds) as I spoke, and it really struck me how much of a disservice society does in the lack of education so many have when it comes to food. No, low fat/fat free foods are not healthier. No that lean cuisine frozen meal will not only not keep you slim, but is also will not provide you with the nourishment you need to heal and prevent. Fats are phat. And egg  yolks are glorious. With each dish, including this fabulous pot roast recipe below, their eyes widened, their souls lifted, and they realized that health, happiness, and empowerment can come in the form of delicious food.
So without further ado, I bring to you a super simple pot roast that will serve your tastebuds and your health. Enjoy every bite, and as you do, think of the ladies of S&T and the power of real food nourishment.
super simplest pot roast (GF, NF, DF)
Servings: 8
Difficulty: easy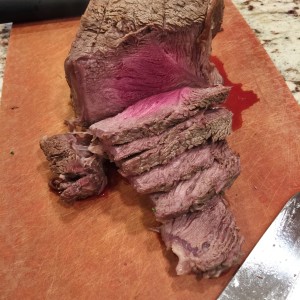 WHAT YOU NEED:
1 3-5 lb grass fed chuck roast
2 TB olive oil or ghee
1 large onion, quartered
4 large carrots, quartered
sea salt and pepper to taste
2-3 cups homemade bone broth
3 fresh sprigs thyme
3 fresh sprigs rosemary
WHAT YOU DO:
set Instant Pot to sauté or heat a large pot over medium-high heat
very generously salt and pepper your roast on all sides
add olive oil or ghee to the hot pot and then toss in carrots and onions, sautéing until browned
remove onions and carrots to plate and then place the meat in and brown on all sides (about 1 min per side), then remove to plate
with the heat still on high, add about 1⁄2 cup of broth and scrape the bottom to deglaze and get all of the good flavors off the bottom of the pot
place roast back into pot with carrots and onions, rosemary, thyme, and enough broth to cover everything
if you're using an Instant Pot, put the lid on set to "seal" and press the "meat/stew" button – If your using a large pot, put the lid on, then roast in the oven at 275F for 3 hours (for 3lbs) or 4 hours (for 5lbs)
once done, let steam out, remove lid, and pull your meat apart with a fork (add juices on top if you'd like!)
I served over a rutabaga sweet potato mash with a side of broccolini. Enjoy!
I would love to hear your thoughts on this one. And if you make it, don't forget to tag me on Facebook or Instagram! How have nourishing foods impacted your health? Cheers! 
♡ Laura