We are less than a week away from Thanksgiving! This holiday is my favorite. Yes, it's amazing because of the delicious food, football, and family. But it's more than that; I also love Thanksgiving because every November, we get to start the holiday season off with a day dedicated to celebrating and acknowledging all of life's wonders – family, friends, love, adventures, you name it. This past Thanksgiving, my husband and I hosted a whole shmorgaspord of family and friends, and it was my most favorite Thanksgiving ever.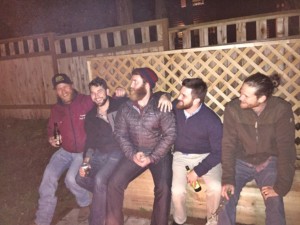 One of the things I love about this holiday in particular is that it's the one holiday that hasn't been fully corporatized and taken over by every damn commercial, billboard advertisement, corporate marketing scheme and the like. Don't get me wrong, I really LOVE the holidays when the focus is where it should be, but I do not love some of the nonsense that comes with it otherwise. People knocking each other down to get to the biggest TV on black friday. Every big company you can think of trying to capitalize on a holiday that can all too quickly lose all meaning. People basically going broke to buy gifts, when what most people really want (at least deep down, if they won't admit it) is genuine time with the ones they love, along with a little rest and rejuvenation for a new year. If you want to see my blood boil, get me in a Walmart around Christmas (never going to happen).
It's always a goal of mine to give gifts of "experiences" (ie: a dinner out with my brother and his awesome new girlfriend, wine tasting with my parents, a day of snowboarding with my little sister). By gifting experiences, there is way more to be gained than just getting more stuff; rather, there are memories to be made and forced hanging out when life seems too busy to make plans. Cool right?
The reality is, though, that we can't get everyone in our lives experiences, so sometimes gifts are in order.  Maybe this year, we will all think twice before heading into Walmart or taking on the nightmare that is the mall, where products and clothes are made and sourced often at the expense of inhumane practices, poor wages, terrible conditions, and methods that are far from sustainable. Instead, check out this gift guide from the Fair Trade Federation! There's some awesome, original gifts for anyone in your life. Or maybe do a little baking or prepare a simple healthy meal for the special people in your life. It's hard to find a better way to show you care than by nourishing the ones you love!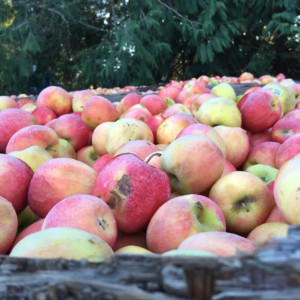 Speaking of nourishing the ones you love, I cannot wait to prepare this dish at Thanksgiving. It's nutrient dense, delicious, and so flavorful. My favorite part is when a slice of apple bursts in your mouth, like a little explosion of salty, juicy goodness. Trust me. Your family will love these, and if you have any brussel sprout haters in your house, they will be converted! Hosting Thanksgiving is a way that I can gift my family with an experience: everyone together in one place, eating great food, celebrating a great year, and loving on each other (even with the argument or two thrown in). There is nothing more important to me than my family (I include friends in that circle too) and the experiences we share. This dish has become a family favorite, and it's one I intend to make time and time again.
So, here you go, Bacon Apple Pecan Brussies. Happy Almost Thanksgiving! Live it rad, my friends.
Pork n' Apple Pecan Brussies
Servings: 8
Difficulty: easy
WHAT YOU NEED:
6 cups of brussels sprouts, cleaned and halved
2 organic firm apples, chopped (I like the skin on)
1 cup of pecans
1/2 lb pastured bacon (OR for a crispy treat, try proscuitto – I did this for the first time recently, and HOLY PIG! So good)
salt and pepper to taste
WHAT YOU DO:
preheat oven to 375F ( I do convection roast)
dice bacon into chunks and throw on a pan or wok set to medium heat
once the bacon is cooked enough to have plenty of grease in the pan, add your brussels, sprinkle with salt and pepper, and cook until lightly browned and well coated*
add your apples and pecans and toss until everything is evenly coated with bacon grease
add more salt and a bit of pepper to taste
line two baking sheets with tin foil and spread out your brussie mixture evenly
it is very important that this is really spread out because if it's piled up in a casserole dish, it will steam and be mushy (no mushy brussies)
bake for 10 minutes, check in, and stir
bake another 5 minutes, or until you have your desired texture
set to broil for 60 seconds, keeping a close eye, until you have delicious crispiness
ENJOY!
*If you use prosciutto, use butter to sauté your brussle sprouts and then add the diced prosciutto right to the pan without any extra cooking.
Countdown to Thanksgiving…. 6 days. Can't wait. Expect a recipe roundup coming soon. Lots of love and thanks to you all. Happy holidays from the Bruners!
♡ Laura