Hi friends! Today I come to you with another kick ass giveaway. I've partnered up with my friends at Vital Proteins to bring to you the opportunity to win their newest product, which is my most favorite yet. Before we get into the giveaway, let's talk about supplementation and why I love this new product shall we?
Let's start with some quick thoughts on supplementation in general. With at least a million supplements out there utilizing clever yet manipulative marketing to make us think that we are in some way flawed and that only this or that product will "fix" us, it's easy to become disdainful towards the supplement industry as a whole. You are not flawed. You are not something to be fixed. You are a wonderful, capable human being, and you deserve nothing but love from those around you, and most importantly, from yourself. And that, my friends, is one reason why I love Vital Proteins. They've created supplements that actually live up to the title. Instead of trying to sell people on some quick-fix snake oil to try to resolve a problem that does not exist, they've created real food supplements that pair beautifully with a real food diet to nourish deeply. My goal through this work is to promote love for ourselves through nourishment and self care. I find these products to be a convenient way to help do that. The powders and pills I promote help me to get in healing real foods when life gets crazy, stress levels are high, and I need their nourishment most. I find collagen (and liver pills) to be immensely beneficial to my health, and I simply can't get them in the amounts I'd like without supplementation. To top it all off, I find Vital Proteins to be a responsible company who puts the needs of its customer and the planet above their own gains, and to me that really matters.
So, now on to the beauty that is Beauty Greens, a product that heals from the inside out. All the benefits of marine collagen, now with great flavor, HLA (Hyaluronic Acid), probiotics, organic raw greens, and the extra perk of beautiful skin. SCORE.
To break it down, Vital Proteins' Collagen Beauty Greens combines marine Collagen Peptides are combined with healthy organic greens rich in Vitamin A, hyaluronic acid, and probiotics to deliver beauty from within for healthy skin, hair, and nails. They finished up with organic coconut water and the finest Madagascar vanilla beans to deliver a refreshingly smooth and natural coconut vanilla flavored drink mix you'll love. And in my opinion, this is one more thing that sets these greens apart, the flavor is leaps and bounds above any other greens powder I've tried. They are actually delicious! Don't trust me? Try the recipe below, and see for yourself.
So, we've got collagen peptides, organic greens, probiotics, and great flavor. As if that isn't enough, this Beauty Greens supplement visibly improves our natural beauty by increasing skin's firmness, hydration, and elasticity for a beautiful glow that nourishes from within. I have been using them for a little over a week, and I already notice a difference.
Here's what they can do:
Promote collagen formation
Improve skin smoothness
Revitalize skin tone
Strengthen hair and nails (May hairdresser could not believe how fast my hair had grown since I saw her last – this I attribute to daily collagen peptides)
Help prevent the signs of aging
Increase skin moisture (This is what I've noticed first – my skin feels far more moist and supple)
Reduce fine lines
Heal skin and reduce redness (This has been really clear too – my skin feels like it's being healed from the inside out)
Here's what you get:
9,375 mg Collagen Peptides – Foundation for healthy skin, hair, and nails
80 mg Hyaluronic Acid – Promotes collagen production and skin hydration
2B CFU Spore Probiotic Bacillus Coagulans – Good gut bacteria for a glowing complextion
9,375 organic raw greens – Supports overall health and wellness
GIVE AWAY TIME! (NOTE: this giveaway has now ended)
When I fall in love with a product, my first thought is that I'd like to give some away to my loving readers. So that's exactly what I am going to do. I'm GIVING AWAY prizes to TWO lucky winners:
Grand Prize: 20 oz canister of Vital Proteins Beauty Greens ($79 retail value)
First Prize of the 10 oz canister of Vital Proteins Beauty Greens ($44 retail value)
So, from now (July 5th) until Saturday (July 9, 2016), you can enter as many times as you'd like to increase your chances of winning. There are 3 ways to enter, and the more ways you do, the better your chances. Here they are:
Sign up for my newsletter (if you haven't already) HERE
follow me on Instagram (@laura.radicalroots) and/or Facebook (Radical Roots)
Best of luck! And no matter what happens, you can still be a winner by making this kick ass smoothie recipe…

So far, this is my favorite way to use Beauty Greens. It's a smoothie that's simple, refreshing, incredibly satisfying, and deeply nourishing. For those of you following a macros plan of some sort, this also happens to be a beautifully balanced meal (Cal:325 Pro:25 Carb:33 Fat:12)
Beauty Greens Smoothie (GF, NF, DF)
Servings: 1
Difficulty: easy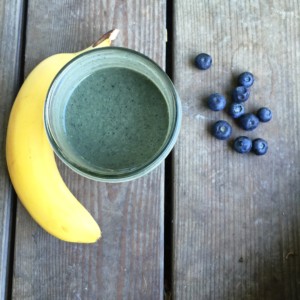 WHAT YOU NEED:
1/4 cup light canned coconut milk (I like Native Forest)
1/4 cup unsweetened almond milk (I used Califia)
1 medium organic banana (98g)
1/3 cup frozen organic blueberries (64g)
1 pastured egg yolk
1 serving Vital Proteins Beauty Greens
1/2 serving (1 scoop) Vital Proteins Collagen Peptides
a few ice cubes
1/4 cup filtered water
WHAT YOU DO:
throw it all in and let the Vitamix or blender do it's magic
ENJOY!
Enjoy this recipe! And no matter how the giveaway turns out, I highly recommend that you get your hands on some Beauty Greens. They're great on their own simply mixed with water OR in this delicious smoothie recipe. If you're an Amazon shopper, you can order HERE, and if you'd rather order directly from the Vital Proteins site, click HERE. Remember, any orders made through my website go towards supporting the blog and my work here! I'd love to hear your thoughts! Cheers to you and your beautiful soul. 
♡ Laura