The chocolate chip cookie. A favorite of kiddo and adult alike. The cookie that when baked from scratch can solve most any problem. From the baking to the eating, the experience is like none other. Which is why I've come up with this super simple chocolate chip cookie recipe. Gluten is simply off the table for me, and most likely many of you reading this blog avoid it too. I've missed that from-scratch chocolate chip cookie experience. The licking of the spoon and bowl. The smell of cookies coming out of the oven. And even the sneaking a cookie before dinner (because now that I am an adult I can do that… so cool).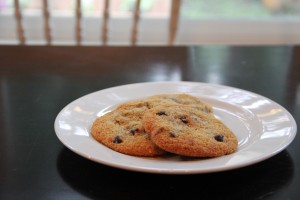 So I bring to you the most delicious, chewy, from-scratch chocolate chip cookie recipe. Rusty and I have so much fun making these together, and I look forward to the day (no not just yet) when we can bring kids into the experience too. Making the switch to real food ingredients does not mean we need to miss out on any of the wonderful parts of life. Making the switch simply means enjoying those experiences so much more because we know that even the treats nourish us – mind, body, and soul.
Cheers to the cookie monster in all of us! Live Rad, my friends.
Chocolate Chip Almond Cookies (GF)
Servings: 10
Difficulty: easy
WHAT YOU NEED:
1.5 cups almond flour
1/2 tsp baking soda
1/2 tsp sea salt
1 large pastured egg
1/4 cup melted grass fed butter (coconut oil works well too)
1/4 cup organic raw honey (I love getting local honey as it helps fight off seasonal allergies)
3/4 tsp vanilla extract
1/3 cup organic, fair trade chocolate chips
WHAT YOU DO:
preheat the oven to 375 degrees
line a cookie sheet with parchment paper
mix almond flour, baking soda, and salt in a medium bowl – set aside
in a separate bowl mix the honey, butter, vanilla, and egg until blended and smooth
make a small indent in the center of your dry mixture and pour in the wet ingredients, mixing until fully combined
now, fold in your chocolate chips
use a spoon to put blobs of dough on the cookie sheet
cook for 8 minutes – 8 MINUTES ONLY
once they are done, stick the cookie sheets into the freezer right away (trust me… SO good)
leave them in there for at least 20 minutes
ENJOY!!
store in the freezer for chewy delicious cookies with a perfect chocolatey crunch  
Let me know what you guys think! What's your favorite kind of cookie? Cheers!
♡ Laura