*Note: this is an old recipe that I decided to revamp because we've fallen deeply in love with this one all over again this past week. Dinner done in less than 20 and flavor that is to DIE for. My husband keeps asking for it, and I keep using the coconut tahini sauce on E V E R Y T H I N G!
I've been getting some requests for quick and simple healthy weeknight meals. This is one of my favorites because I can make it with a babe in one arm. It's super quick and easy to make, and it will leave everyone filled up with nourishing ingredients. It's super versatile because you can use literally whatever veggies you have in the fridge or whatever sounds appetizing. The ones below are what we find to work best, but I've also used kale, grated sweet potato, leek, and onion.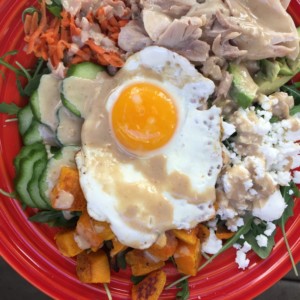 This is extra nostalgic for me because my dad used to make the most delicious stir fries when I was a kid. Every bite brings me right back. The coconut aminos provide a great substitute for soy sauce (and a flavor I prefer), and the drizzly coconut tahini sauce gives just the right flavor boost and texture to make this stir fry a total win. As I mentioned before (and will again), this sauce is AMAZING. I love putting it on big salad bowls as the dressing too (see photo).
So look no further than this simple stir fry next time you're in need of a quick and simple dinner. It might just become a staple. Oh and it's great as leftovers for lunch too (hot or cold)! Just add a bit more water to your tahini sauce and you're set to go.
Enjoy, and as always, Live Rad my friends!
Coconut Tahini Stir Fry
Servings: 4
Difficulty: easy
WHAT YOU NEED:
for the sauce:
1/3 cup organic tahini
2-3 TB coconut aminos
water for desired texture
*add sea salt to taste if your tahini doesn't include salt
for stir fry:
1 lb ground beef (or leftover meat of your choice)
2 TB coconut oil
1 large head of broccoli stems removed, chopped
1 cup baby carrots, diced
1 cup mushrooms, sliced
1 cup sweet peas, chopped
1/2 cup whole cashews or almonds
1-2 tsp garlic powder
sea salt and pepper to taste
2-3 TB coconut aminos
WHAT YOU DO:
heat a wok or frying pan on medium-high heat
add beef and break down until cooked through, drain excess juice*
add coconut oil and broccoli to pan, stir, then cover with large lid for a few minutes so broccoli gets somewhat steamed
add remaining vegetables and 1 TB coconut aminos and stir
add salt, garlic powder, and remaining coconut aminos, and continue cooking, stirring frequently, until everything is cooked through
add cashews or almonds, season more if desired, and stir or toss a few more times
just before serving, combine sauce ingredients, adding water slowly until desired consistency is reached (I like it to be liquid enough to drizzle over my stir fry)
plate your stir fry, drizzle with tahini sauce, and enjoy!
*If you're using leftover meat instead, add this after your veggies are cooked and cook just long enough to heat through.
Let me know what you think! And leave a comment below if you've got any favorite quick weeknight dinners.
♡ Laura