Thank you, dad. Thanks for raising me to love and believe in myself. Thank you for picking on me just enough to give me thick skin, but for loving me so much that I know my worth. Thank you for having different political opinions and for giving me a strong opponent in friendly, eye-opening debates. Thanks for loving me, not despite my unique and radical choices, but partly because of them. And, dad, thank you for teaching me about wedge fries. This recipe is for you.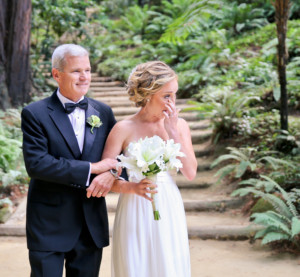 Since moving back to California and having to stay with my folks for a month or two while we wait on some news of what's next, I've learned a thing or two from my dad. First, I've learned that just because I'm in my late 20s does not mean that the learning stops. I've learned that having a parent with polar opposite political views is not always a bad thing (and that dad can learn from me too.. right, dad?). And I've learned that homemade wedge fries knock the pants off of any other fries out there.
One evening, Rusty and I came home to find my parents finishing up some burgers and homemade fries. He offered us up the leftovers. I passed because we'd just eaten, but Rusty, of course, took the offer. He made a comment about how amazing they were, I smiled, and the fries became a thing of the past…. that is until our own burger night rolled around.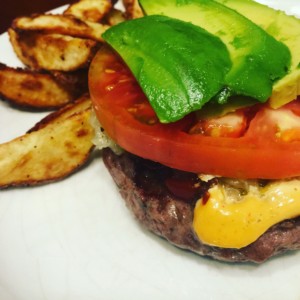 Usually, Rusty is cool with whatever I do in the kitchen. He's a happy taste tester and genuinely likes almost anything. This time, though, he had a specific request: that we try new potatoes instead of sweet and that we cut them into wedges. Having forgotten about my dad's wedge fries from a few nights back, I was a little confused, but figured, why not? And so the wedge fry was born, complete with perfect airy crisp on the outside, a bit of starchy chew on the inside, and all the flavor.There is something about the waxy nature of the new potato (these come in gold or red and are especially delicious as fries) that makes for a perfect fry that holds its shape and crisps up so beautifully that each fry even bubbles up for that perfect bite. Coating them with ghee and seasoning them just right makes for flavor perfection that, when paired with that texture euphoria, just can't be beat (at least not in our house anymore). Because of these fries, we've had burger night 4 out of the past 6 nights, and I wouldn't change a thing. Thanks to 4 nights of work on this recipe, I now feel confident that it's been perfected, so here you go… Enjoy!
dad's wedge fries (GF, NF, DF)
Servings: 2-4
Difficulty: easy
WHAT YOU NEED:
WHAT YOU DO:
Preheat your oven to 375F (I do convection roast) and line a baking sheet with parchment paper to keep them starchy and to prevent burning (didn't try this until my 3rd attempt and it made ALL the difference)
slice the new potatoes into wedges and toss them into a bowl (the thinner the wedge, the crispier the fry)
melt 1 TB of ghee in the oven or on the stove top drizzle on the potatoes and toss until they're evenly coated
sprinkle with all the spices and toss them in the bowl again till evenly covered
spread them out evenly on the baking sheet so none are touching and place in the oven on a high oven rack (about 4-6 inches from the top)
bake for 8 minutes, remove from oven, flip each wedge over, and put back in for another 8 minutes
pull them out again sprinkle with a bit more sea salt and garlic powder if desired (I can't get enough) flip them around until any lighter side is face down and put them back in the oven on a lower rack (about center)
now, it's super important that you keep an eye on them here – I leave mine in for another 5 or so minutes so they're perfectly crispy but not burnt on the edges (basically, helicopter parent your potatoes)
remove from oven and try not to burn your mouth when you can't wait even a minute for them to cool
ENJOY with a grass fed burger (and my favorite dippings: organic ketchup, Sir Kensington's secret sauce, and Primal Kitchen mayo) or basically any dish you'd like!
Would love to hear your thoughts on this one! These are a staple in our house because #teamwhitepotato. We train hard over here and need to starchy carbohydrate to fuel up. Cheers to the remaining long nights of summer, to backyard bbqs, and to the fact that real food is so damn good.
Live rad, my friends!
♡ Laura