Hi friends. For those of you who have been following along for a while, you probably saw my recent post about why I love using Rootz Nutrition supplements for my training and for life. As a very selective supplement user, who believes in getting nutrition primarily from real food sources, I don't take this subject lightly. Read more about why I chose Rootz Nutrition HERE. You can also make an order now by using code: radicalroots at checkout for 10% off.
Now that I've been using Rootz for a while, I decided to get creative and use the protein in a new baked good recipe – one that has turned out to be not only delicious, but also a perfect pre-workout snack to fuel my training. Speaking of training, moving back to California sure has made me fitter. It's amazing how by surrounding myself with super fit friends, I can almost get fit by osmosis… Well not really, it's more a result of the friendly competition, the hangouts at the gym, and the general energy of living in the mecca of CrossFit. Thank goodness for Rootz Nutrition because without a kitchen of our own (yet) and with the increase in training, I need something quick, clean, and yummy to refuel.
Anyways, back to the point of this post. I've created a chocolate banana-sweetened protein cake that will knock your socks off. Part energy fuel, part decadence, and all real food. And if you're missing the main ingredient, remember you can use code RADICALROOTS at checkout for 10% off. Enjoy!
Choco Banana Paleo Protein Cake (GF, NF, DF)
Servings: 12
Difficulty: easy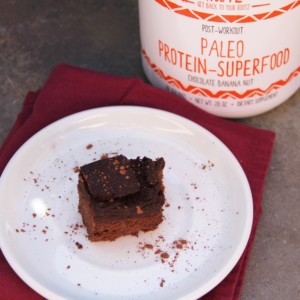 WHAT YOU NEED:

1 whole egg + 150g egg whites (whites from 4 eggs)
4 medium organic bananas
1 tsp vanilla
1/2 cup Rootz paleo protein
1/4 cup organic cocoa powder
1/2 tsp baking soda
1/2 tsp gluten free baking powder
1/4 tsp sea salt
ghee or coconut oil to grease pan
OPTIONAL: 2 TB organic peanut butter powder (a recent treat choice*), 1/4 cup soy free chocolate chips, 1/4 cup chopped walnuts
*if you can tolerate peanut butter, I highly recommend going organic due to mold (aflatoxin) that is found in most peanut butter brands, plus check those ingredient labels for other crappy ingredients (should only have peanuts and salt)
WHAT YOU DO:
preheat oven to 350F and grease a small loaf pan with a tiny bit of fat of your choice (I used ghee)
toss banana, eggs/whites, and vanilla in your Vitamix or blender and blend until smooth
add in dry ingredients (including peanut butter powder if using) and blend a bit longer until all combined
scrape batter into greased loaf pan and top with chocolate chips or walnuts if desired
bake for 20-25 minutes until toothpick comes out pretty clean – the loaf will still seem super moist, but this is a good thing!
let cool for 15 minutes, remove from loaf, slice, and ENJOY!
Let me know what you think. I LOVE putting down a slice of this "cake" before I train. Balanced macros, delicious flavor… now that's what I call clean fuel. Cheers!
♡ Laura