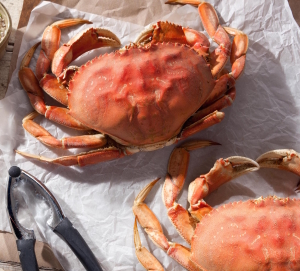 A good friend of ours is also a commercial fisherman, and he is very good at what he does. He's also an awesome human and member at our CrossFit gym. He surprised Rusty and me this past week with a shoebox filled with fresh-caught Dungeness crab. Have I mentioned one of my love languages is food?
Anyways, all prior dinner plans went out the window, and I got creative in the kitchen. The outcome? This AMAZING dinner. I should probably get spontaneously creative in the kitchen more often. We had beautiful delicata squashes and a few jars of freshly made bone broth. Picked up some raw cream and crumbly cheese and voila! This creation was born, and damn is it a good one.
Don't just take my word for it, though, see for yourself. Don't have any crab on hand? The soup is delicious as a stand alone too! Happy fall and happy crabbing. Live Rad, my friends!
Delicata Soup with Buttery Crab (GF, NF)
Servings: 8
Difficulty: easy
WHAT YOU NEED:
for the soup (also amazing on its own):
2 medium delicata squashes
1 small yellow onion, diced
2 cups homemade bone broth
1 cup heavy whipping cream or coconut cream (I used raw cream)
2 TB grass fed butter or ghee
sea salt and pepper to taste
for the buttery crab:
5-6 oz fresh, boiled* crab meat
1-2 TB grass fed butter or ghee
ADDITIONAL TOPPINGS: goats milk cheese and drizzle of olive oil
*Use about ¼ cup of sea salt per gallon of fresh water and bring to a boil. Immerse the whole crab and boil for about 18-20 minutes. Remove the crab from the pot and rinse under cool water to stop the cooking process and cool the shell for handling.
WHAT YOU DO:
for the soup (also amazing on its own):
preheat oven to 325F
cut the squashes in half and lay face down on baking sheet, and roast 15-20 minutes or until soft to the touch
in a large saucepan, melt 2 TB butter, and add onion, cooking over medium heat until just soft
scrape the squash flesh out of the skin and add to saucepan with onions
now, add broth and cream and cook everything over medium heat for about 25 minutes, stirring occasionally
pour contents into a Vitamix or blender and purée
return to pot and salt and pepper to taste
for the crab topping:
crack shell and remove crab meat (kind of fun and messy)
melt remaining butter in a small pan, and add crab, stirring until warm
for the grand finale:
serve soup into 4 bowls, drizzle with olive oil, top with crab, and sprinkle with crumbly goat cheese
ENJOY! This is the most delicious crab dish I have ever had. Fingers crossed there's more fresh crab in my future