*Scroll to the bottom for a crazy good deal!
Yep, a shortcut…
That's right; I said it. And this is coming from a girl who has never been an advocate for any sort of quick fix pill or supplement, and who has always said (and will keep on saying) that a real food approach is the BEST way to eat for health, wellness, fitness, happiness, and longevity.
Confused yet? Why would someone who's based her teachings and lifestyle on the idea that real, nourishing foods are the key to lasting health, all of a sudden write a post about some shortcut to a superfood?
That's the cool part…
I've found a truly whole food supplement that's going to allow you to get in the most powerful superfood without any of the taste.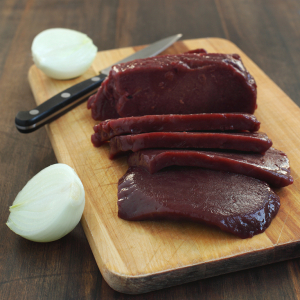 Any guesses as to what that superfood might be? It's LIVER, my friends. Pure, unadulterated grass fed beef liver, and it's something we ALL should be getting into our diets as often as possible.
Our ancestors utilized whole-animal nutrition, where liver was a valued part of a traditional diets due to its nutrient density and ability to revitalize the body. Over time, we have lost touch with this powerful healing superfood. You might remember THIS post from a little while back, where I wrote about why organ meats, especially liver, are such a powerhouse of nutrition. I also provided a recipe for delicious bacon liver pâté. Here's a quick reminder of the goodness that comes from enjoying (or for some folks just getting down) liver:
vitamins – awesome amounts of  B vitamins such as B1, B2, B6, and the very important vitamin B12; 

the important fat-soluble vitamins A, D, E and K;folic acid; and some of the highest concentrations of naturally occurring vitamin D of any food source

minerals – 

phosphorus, iron, copper, magnesium, iodine, calcium, potassium, sodium, selenium, zinc and manganese

essential fatty acids – arachidonic acid and the omega-3 fats EPA and DHA
essential amino acids – rich in the amino acids glycine and proline, which are essential for connective tissue health, join health and digestive health
And here is where the shortcut comes into play. The wonderful people from Vital Proteins have captured the goodness of grass fed beef liver and encapsulated it into pill form with zero flavor and all of the benefits. 

I wrote THIS post a little while back all about how much I love the collagen protein from Vital Proteins. Well, now I am back and more in love than ever with this company that helps make getting in real food nourishment easy.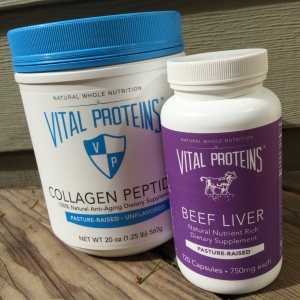 Thanks to Vital Proteins, I have been getting in my daily dose of liver, and it's paying off. I've been taking this pill for 2 weeks now, and I have to say that I already notice a difference in my hair and nails. My hair has fewer broken ends, and I have to cut my nails basically every day now so that I can work in the garden without them getting filled with dirt. I'm also sleeping like a champ. Coming from someone who loves foods like sauerkraut and sardines, this is saying a lot. My diet is loaded with nutrient dense foods, but these pills have taken it to the next level, and I am grateful for that. While I don't hate liver (as much as my husband does, at least), it's not something I enjoy preparing and eating on a regular basis, definitely not enough to get the necessary amounts in. Vital Protein Liver Pills to the rescue. Each bottle has been independent lab tested for nutrient content and comes with 30 servings of pasture raised, 100% grass fed New Zealand beef liver providing 3400 IU (70% DV) of Vitamin A per serving and 13.6 mcg (230% DV) of B12 per serving, along with high amounts of Vitamin A, B12, Folate, Riboflavin, Zinc, Copper, and Choline.
Are you a believer yet? Want to give it a try? How about for 20% off and FREE shipping?
Use Coupon Code: MYRADICALROOTS20 over at vitalproteins.com and you will get 20% off any order (I recommend stocking up on collagen peptides while you're add it) along with FREE shipping within the US. Code is good from September 22-October 6, 2015.
Cheers, guys! And stay tuned for a giveaway coming your way in a couple weeks too. Now go on and Live Rad and Eat Liver!