"Guest Interview – Joy and Claire from Girls Gone WOD"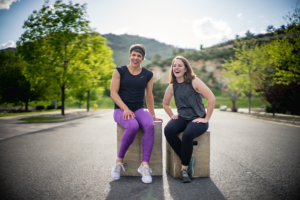 In this episode of The Modern Mamas Podcast we are talking to Joy and Claire, the wonderful women behind the Girls Gone WOD podcast and community. We talk about the GGW community and passion, Claire's motherhood and journey, including her struggles with postpartum depression, the pressures Joy has felt to have children even when that's not her path, and so much more.
Download in iTunes HERE & on Stitcher HERE! And don't forget to join our Modern Mamas Tribe on Facebook!
The first half of this dynamic duo is Joy!  Her love for the CrossFit community is what brings her to the world of podcasting. She loves running, CrossFit, yoga, food, fashion, music, podcasts, and listening to audio books. She's a licensed professional mental health manager for Kaiser Permanente Colorado, and she has an adorable therapy dog, JT; they're professionally trained through Canine Companions for Independence. Joy has been a fitness instructor for 14 years and completed her CFL1 March 2015 and CFL2 January 2017. She's won 4 Emmy Awards and once danced in the Super Bowl halftime show with Diana Ross. She is 40 years old, has a twin brother, and grew up in Mesa, Arizona. Joy loves cheesy chick flicks, Beyonce, Backstreet Boys, and anything from the 80's, as well as clean & jerks, double-unders, burpees, and handstand push-ups. She's married to the coolest, nerdiest, smartest music/art/fashion/sports/Nike geek in the world, Scott. And she believes life is meant to be fun, happy, and joyful!
And then there's Claire, a 29-year old Front Range native, living in Longmont with her baby Miles, husband Brandon, and border collie mix Luna. She has her CFL1 and CFL2 and graduated with her Master's in environmental policy. Claire spends as much of her free time as possible in the mountains, on the river, or in the gym. Though she never played sports as a kid, growing up in the ultra-active city of Boulder taught her to follow her instinct to explore. This instinct led her on many backpacking trips and trail runs as a high schooler, eventually taking her to the Yukon Territory for a month-long canoeing trip in college and then to Moab, Utah after college to work as a raft guide on the Colorado River. When Claire returned to the city after two summers on the river, she needed a new place to channel her adventurous instincts, and it didn't take long for her to find CrossFit. Claire loves CrossFit because it has redefined the way she thinks of an "athlete" and has also taught her that being healthy is about so much more than how we look. She now considers an athlete to be anyone who strives to use their body to its fullest potential by experimenting with diet, exercise, adventure, and community. Ultimately, her goals are simple: Eat Healthy, Lift Heavy, and Live Well.
Links and Such:
Just Be Kitchen in Denver
Brute Strength Podcast interview with Girls Gone WOD
BIRTHFIT Coaches Seminar
More on Claire's experience with PPD
Brené Brown – Braving the Wilderness
Where to find Joy and Claire:
girlsgonewodpodcast.com/
Instagram: @girlsgonewodpodcast
Connect with us:
Also, in case you missed it, if you're looking for nourishing, affordable pasture raised meat delivered to your door, have we got the deal for you. We're pumped to have partnered with Butcher Box, a company that offers just that! And if you click here, you can get $10 off your first box AND 2 free 10oz ribeye steaks. (score).
Please subscribe, rate, and review! We're so glad to have you as a part of our tribe!
♡ Laura