"Pat and Taz Barber on entrepreneurship, parenthood, traveling with kids, and training from anywhere"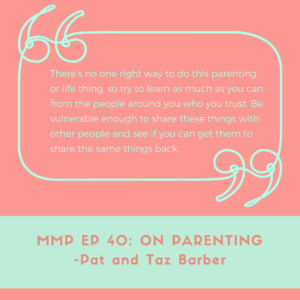 In this episode, Laura sits down with some of her best friends all the way in South Africa to chat about their current international travels, the tribe life, working and training from anywhere, the CrossFit Open, parenthood, outside pressures to fit a parenting "norm", discipline, van life, and SO MUCH MORE. Don't miss this awesome episode.
Pat, Taz, Oakes, and Arrow live in Santa Cruz, a small beach town on the coast of Northern California. Pat was born and raised there, but Taz was born in South Africa and moved to New Zealand when she was 12. She blames her parents for giving her the travel bug (which we'll hear much more about in this episode)! They met at a CrossFit competition in 2009. Fast forward 8 years and they're running multiple online businesses and raising two kids.
Pat likes to surf, connect with people, make terrible dad jokes and play Magic the Gathering. He is happiest when he is around his family, specifically, playing any sort of game. He is scared of the future but is very good at living in the present! Taz likes to be in the ocean, experiment with cooking, be ridiculous with her friends, organize (anything), laugh at Pat's dad jokes and just 'being' with her boys. She loves the future, especially organizing it, and is still working on living more in the present. Oakes, who is 5, likes playing Lego and being in the ocean. He is currently working on having fun, being curious and trying not to be a complete dick to his brother. Arrow, who is 2, loves to climb, swing, jump, eat Legos and laugh. He is learning to talk, poop in the toilet and, also, how not to be a dick to his brother.
They are sort of part-time digital nomads with a home base is Santa Cruz, but as we'll discuss they travel A LOT. They are ever so grateful for the ability to be mobile but still have a home in the traditional sense when they need it. The Barbers are making the most of the opportunities they have, and their dream is to help and inspire you to do the same (in whatever capacity possible). They don't pretend that traveling with kids is easy, but for them, the positive benefits it brings to the family outweigh any of the hardships that come with it. When things get really hectic, their motto is: 'It can always be worse!' They are all healthy, happy (most of the time), fed, clothed and in no immediate danger. Every moment they can spend with their kids is important and they don't want to take that for granted.
They also have a Podcast's called The Tribe Life with a goal to connect with other parents around the world so they can tell stories about their relationship and how they are currently raising their families. (Rusty and I were on it). The goal? To provide a peek into the lives of other families around the world so that we can all learn from each other and connect with each other. To remember that we are not alone. We are in this together.
Links and Such:
Warmup and Workout
Yoked (coming soon)
Tribe Life
All the Instagrams: @thetribelife @yoked.fit @warmupandworkout @tazbarber @patbarbercf
Connect with us:
Email: modernmamaspodcast@gmail.com
Any thoughts or comments? Leave them below. We love hearing from you. Please subscribe, rate, and review! We're so glad to have you as a part of our tribe! Oh, and don't forget that you can sign up for Butcher Box, you can get 2 free ribeye (10 oz steaks) AND $10 off your first order. Your signup gets you delicious meat AND supports our efforts on this podcast.
♡ Laura