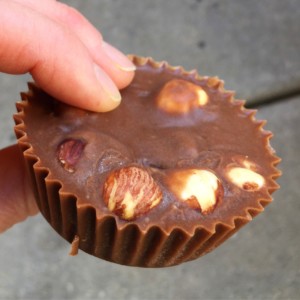 Once again, you ask, and I deliver. You guys got a kick out of the photo I posted on Instagram of this wing it and win it carob coconut butter cup, so I went to work perfecting the recipe today, and here you go! These came as a result of loving me some keto cups and all things coconut butter. I am working on a post (and will be doing a MMP episode soon too) all about my current high fat, low carb (no not tracking, so who knows if I'm keto?) escapades. What I do know is that I am feeling AMAZING, and that, my friends, is what matters.
I have a deep love for dark chocolate, especially as an afternoon snack with a shmear of coconut butter on top. Yum. I started to realize, though, that Evie was waking more frequently in the night (ready to party), and then it hit me… the goddamn delicious chocolate. Not just caffeine, mind you, but also theobromine, which is actually a cardiac stimulant. This is especially prevalent in the 90% dark I enjoy most. So, my chocolate fix now comes in the morning, and my afternoon enjoyment is fulfilled with these sugar free, high fat delicious chocolately, but non-chocolate carob cups. Breastfeeding mamas rejoice! No more night parties for the babes, and all the chocolatey goodness for you. Oh, and non-mamas I am talking to you too; if you're noticing chocolate impacting your sleep, these are the treat for you! Butttt if you're golden with the real cacao, that's an easy swap for the carob powder, or just swap chocolate chips for the carob chips for an even easier go of it. ENJOY, friends!
Carob Coconut Butter Cups
Servings: 6
Difficulty: easy
WHAT YOU NEED:
1/2 cup coconut butter
1/4 cup coconut oil*
1/4 cup unsweetened carob powder (cacao will work too!)*
1/2 tsp vanilla
pinch of sea salt
1/4 cup sprouted hazelnuts (or any nut you choose)
1/4 cup unsweetened coconut flakes
optional: 1 tsp sweetener (I prefer monk fruit)
*You can also sub in unsweetened carob chips here and just do 1-for-1 coconut butter and carob chips! Easy peasy. I'm just not super jazzed on the ingredients of the chips so decided to change it up.
WHAT YOU DO:
fill the bottom inch of a pot with water, set to medium heat, and put a bowl in the pot so that the water submerges the bottom of the bowl
add coconut butter and coconut oil to bowl and stir as they melt together
once melted, add carob powder, vanilla, and sea salt, and continue stirring until combined and melty
fill 6 muffin liners about 1/3 way in a muffin tray and sprinkle in any additions you'd like
place in the freezer for 30 minutes or the fridge for an hour
ENJOY! (store in the fridge for best longevity, but left at room temp for a bit they get fudgey!)
I'd love to hear what you think! Comment below. Any mamas out there have to avoid chocolate too?
♡ Laura