We've got a new Podcast Partner, and we are THRILLED! Paleovalley has come on board to support the Modern Mamas Podcast and to bring our wonderful listeners a great deal. Click here and use code "radicalroots" for 20% off your entire order. The Organ Complex has been a huge part of my fertility and postpartum journey, and now I use it as a part of Evie's first foods! And I use the Non-Denatured Whey and Beef Sticks every single day to keep me nourished through whatever life brings. Don't miss the deal! Thanks so much for supporting the podcast, listening in, and being a part of this tribe.
"Guest Interview – Megan Garcia: All About Herbs"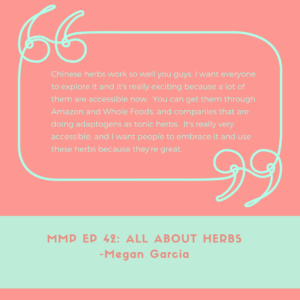 In this episode, Jess sits down for a long awaited discussion all about herbs and adaptogens!  We had so many listener questions about this topic, and we dive into the first segment all about uses in kiddos, pregnancy, and postpartum. What works, what doesn't, and how you should use them!
Megan Garcia is a mama to two boys and lives in Los Angeles. She has a master's degree in Traditional Oriental Medicine and is the creator of First Foods & Beyond. Her main gig for the last ten years has been copywriting, editing, and research for folks in the health and wellness industry. When Megan found out she was pregnant with her first baby back in 2011, she began going deep into baby health and wellness. Specifically a baby's first 1000 days. Her interest in baby health, combined with a big love for all things food and gut related has become the heart and soul of what she does in her own little corner of the web, at megangarcia dot com.
Links and Such:
Magnesium Mineral Drops
Cold Snap
Blue Poppy – CQ Jr.
Kan Herbs – Fire Fighter
Yin Chao Jr.
Immune Fortifier
Health King Easy-Going & ColonClean Herb Tea
Tender Teeth 
Plum Flower Economy Size – Free and Easy Wanderer – Xiao Yao Wan
Connect with Megan: 
Megangarcia.com
Instagram: @megan__garcia
Connect with us:
Email: modernmamaspodcast@gmail.com
Any thoughts or comments? Leave them below. We love hearing from you. Please subscribe, rate, and review! We're so glad to have you as a part of our tribe! Oh, and don't forget that you can sign up for Butcher Box, you can get 2 free ribeye (10 oz steaks) AND $10 off your first order. Your signup gets you delicious meat AND supports our efforts on this podcast.
♡ Laura