We are SO EXCITED to share that Four Sigmatic has come on to support the Modern Mamas Podcast and to bring you guys a great deal! Get 15% off your Four Sigmatic order with code: modernmamas!  If you've been following along, you know that I am loving the impact these deeply medicinal real food supplements have had on my life, and I can't wait to hear what you think too. Happy shrooming, friends ♡
"Guest Interview – Kezia Neusch from the Whole Food Diary on going plastic free, working through colic, and her Whole Food Baby"
In this episode, Laura sits down with Kezia for an awesome discussion about her life is mama to her Whole Food Diary family. WE talk about the process and impact of going plastic free now, and for our kiddos' generation, surviving weeks with a colicy babe (and what she did to resolve it), and how she introduced real food to her son, Clayton.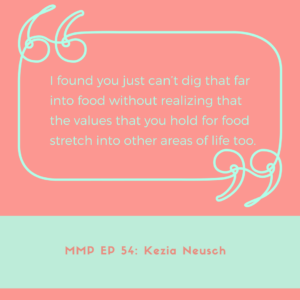 Kezia was born and raised in London, England and currently lives in small town Northern California with her husband Jared and two children Clayton and Rosemary. She is a wife, mother, recipe developer and blogger at The Whole Food Diary where her biggest desire is to help people find peace and feel empowered in their own journey of health.
Raised in a large European family, Kezia's love of good food began at a young age around a sprawling table of happy relatives. Her family began to dig deeper into the story of food and health after the BSE scare in England, and it was a journey that continues to this day.  After leaving school she worked on a dairy farm running a small herd of dairy cows before studying at the Royal Veterinary College in London.
For the last 5 years she's been putting her life online and digging deeper into the journey of 'Clean Living'. What started as a journey with food has become a quest for conscious, healthy living in every area of life.  From working to eliminate plastic and trash from her home, to only buying ethically made clothes to supplying local coffee shops with paleo treats to offer a healthy option, Kezia loves to share the journey and help people find manageable ways to make small changes.
Food will always remain central, and her most recent journey has been in weaning their toddler onto a healthy diet of real, whole foods. She wrote about the journey along with 40+ simple recipes in her latest ebook The Whole Food Baby.
Links and Such:
The Whole Food Baby
Kezia's Website: https://thewholefooddiary.com/
The Whole Food Diary on Instagram: https://www.instagram.com/thewholefooddiary/
The Whole Food Baby on Instagram: https://www.instagram.com/thewholefoodbaby/
15% off anything in the The Whole Food Diary store – with discount code MODERNMAMAS
Connect with us:
Email: modernmamaspodcast@gmail.com