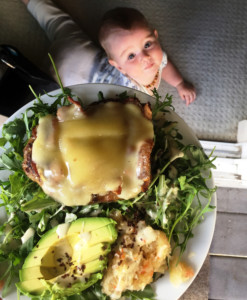 If you follow me on Instagram, you know that we LOVE burgers in our house. They are a staple at least a few nights a week, especially in the summertime, when the days are long, and the grill is always in use. After YEARS of burger eating, I decided it was time to take things up a notch, and after a dinner at our friends' house one night that included Dry Farm Wine and mind blowing burgers a la our friend Cary, I found out just what had to be done to create the perfect burger.
Cary shared that he had added a marinade to the ground beef before grilling, so I went to work creating my own unique flavor combination to add flavor and juiciness. My friends, I've done it. And I don't think I'll ever make a burger any other way.
Feel free to play around with the ratios if you'd like more or less spice, but the combination of the slightly sweet coconut aminos with the little kick of spice is just what this family loves. Even our Evie loves some kick and devours every bite.
Enjoy, friends! Happy grilling ♡
The Best Burger
Servings: 2-3
Difficulty: easy
WHAT YOU NEED:
Optional vessel and accompaniments:
WHAT YOU DO:
turn on your grill to high heat (and a pan to high heat on the stovetop if you're having the onions)
put all seasoning ingredients except ground beef in a bowl and combine with a fork
throw in the beef and knead it with your hands until the seasoning is well combined with the beef
separate into evenly portioned balls and pat flat for the grill (about 1/2 inch)
if you're having onions, once the pan is hot, add ghee and throw them in with sea salt, stirring occasionally
once your grill is hot, put your burgers on, leaving the lid open, and grilling until liquid starts coming from the top of the burger, about 4 minutes
flip, add bacon slices, and top with cheese, and grill another 2-4 minutes depending on desired doneness
while burgers are grilling, put arugula on a plate and drizzle with ranch
top arugula with finished cheesy burgers, add onions, kraut, and avocado, and ENJOY!
If you make this, I'd love to hear your thoughts! Share a photo, and don't forget to tag @laura.radicalroots!
♡ Laura