We've got a new Podcast Partner, and we are THRILLED! Paleovalley has come on board to support the Modern Mamas Podcast and to bring our wonderful listeners a great deal. Click here and use code "radicalroots" for 20% off your entire order. The Organ Complex has been a huge part of my fertility and postpartum journey, and now I use it as a part of Evie's first foods! And I use the Non-Denatured Whey and Beef Sticks every single day to keep me nourished through whatever life brings. Don't miss the deal! Thanks so much for supporting the podcast, listening in, and being a part of this tribe.
"Guest Interview – Autumn Fladmo Smith, co-founder of Paleovalley, on her real food health journey, motherhood, and organs as a superfood"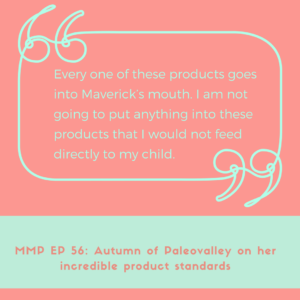 In this episode, Laura sits down with Autumn, co founder of Paleovalley (our first podcast sponsor!)  for an awesome discussion about her journey to true health and self care (which included a wold tour with Jennifer Lopez), life as a mama, and what led her to create Paleovalley. We talk about life, self care, nutrition, empowerment, and so so much more.
Autumn Fladmo Smith has been a health enthusiast her entire life. She began her academic career with a Bachelor's degree in psychology and a minor in dance from the Unversity of Montana. Upon graduation, Autumn danced professionally while becoming a certified yoga instructor. Hoping to combine her love of dance with her passion for health, Autumn became a celebrity fitness trainer with Tracy Anderson, most notably completing a world tour with Jennifer Lopez.
While working as a fitness trainer, Autumn could see that exercise alone was not enough for many of her clients to achieve the radiant health they worked so hard to achieve. Meanwhile, Irritable Bowel Syndrome (IBS) and anxiety continued to plague her personal health, starting in adolescence. These frustrations further ignited her passion and interest in the study of holistic nutrition. Through self-guided research, she and her husband, Chas, healed her IBS with the paleo diet. She then studied with the Institute for the Psychology of Eating to become a Certified Eating Psychology Coach and Hawthorn University where she obtained a Masters in Holistic Nutrition.
In 2013, she founded Paleovalley with her husband and brother-in-law. Paleovalley's mission is to share excellent nutritional information and organic food products with 100 million people worldwide. Autumn's commitment to health reached new heights last year following the birth of their son, Maverick, and she is currently enrolled in the Functional Diagnostic Nutrition Program.
Links and Such:
Paleovalley Website (10% off with discount code: RADICALROOTS)
Find Paleovalley on Instagram: https://www.instagram.com/paleovalley/
Eating Psychology
Felice Jacka
Vegetarian Myth
Kale vs. Cow
Paleovalley Podcast: Optimize Paleo
Don't miss our GIVEAWAY! Two lucky winners will get a bottle of Paleovalley Organ Complex. Check out Instagram to see how to enter. 
Connect with us:
Email: modernmamaspodcast@gmail.com
Any thoughts or comments? Leave them below. We love hearing from you. Please subscribe, rate, and review! We're so glad to have you as a part of our tribe!
♡ Laura