We are SO EXCITED to share that Four Sigmatic has come on to support the Modern Mamas Podcast and to bring you guys a great deal! Get 15% off your Four Sigmatic order with code: modernmamas!  If you've been following along, you know that I am loving the impact these deeply medicinal real food supplements have had on my life, and I can't wait to hear what you think too. Happy shrooming, friends ♡
"Guest Interview – Noelle Tarr of Coconuts and Kettlebells Part 2"
In this episode, Laura sits down with Noelle Tarr. We get real about motherhood, work life balance, self love, and the much under discussed postpartum period. Get ready for some real talk in this episode, friends!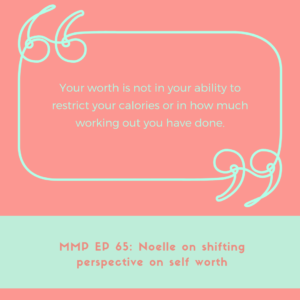 Noelle is a Nutritional Therapy Practitioner (NTP™), certified by the Nutritional Therapy Association®, and a National Strength and Conditioning Association (NSCA®) Certified Personal Trainer. Her kettlebell training comes from StrongFirst®, and she's passionate about helping people become strong from home. She's also the writer behind all the posts you'll find on her site, and she's the voice behind the incredibly entertaining and fast-growing health and fitness podcast, The Well Fed Women Podcast. She has a degree in public relations and marketing, and in her former life, she served as marketing director for various multi-location retail companies in the running industry, and worked with establishments like Semper FIT (United States Marine Corps), corporate health departments, and various medical facilities to do on-site presentations and training. She's also acted as race creator and director, triathlon club starter and coach, and being in the business of running shoes—She's touched a ton of feet in her lifetime. To add to that arsenal, Noelle is also a mama to Stella and now official author to the recently published book Coconuts and Kettlebells.
Links and Such:
Connect with Noelle: coconutsandkettlebells.com, @coconutsandkettlebells
Coconuts and Kettlebells the book!
Noelle's first episode with us: Ep#17
Noelle's birth story: Part 1 & Part 2
Connect with us:
Email: modernmamaspodcast@gmail.com
Any thoughts or comments? Leave them below. We love hearing from you. Please subscribe, rate, and review! We're so glad to have you as a part of our tribe!
♡ Laura