Thank you Genestra HMF Probiotics for sponsoring this post.
Beat the "bug season" this year; it's as simple as supporting your gut!
I know I hooked you with that headline, and now you're probably wondering what your gut has to do with beating the season's biggest bummer… Let dive in! We all know what happens when fall rolls in, the cooler wetter weather sets in, all the kids are back at school, and they share more than just toys. While Evie isn't in daycare or school, that doesn't leave us unaffected by these season's nasties. We spend A LOT of time with our friends who have kiddos that are school age, we travel a ton (hello airport germs), and we're outside always (#findusoutside). Fortunately (knock on wood), though, we've had zero issues with catching anything yet. My "buk season" goal? Keep it that way.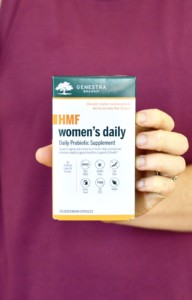 When I started thinking about how to prepare a good offense this year, I wanted to keep it simple, straightforward, and easy to stick with. As I have hinted at, we are downsizing our living space pretty soon here (stay tuned for more on that), and I won't have the space (physical space or headspace) to worry about taking a whole host of pills every day. Because Evie is still nursing, my health so directly impacts her health. She's too tiny to take many supplements, but I feel confident in the fact that if I can keep my immune system strong and healthy, hers will follow suit. The best way to do that? Take care of my gut. Did you know that 70% of our immune systems are in our gut? Woah, right? 
There are so many recommendations and options on immune boosting tips and tricks, and it can be overwhelming. Most folks don't have time to research all the things. So what I always recommend is to find a company, do a little digging into their practices and quality, and then shop in confidence. Enter Genestra HMF Probiotics. As you know by now I ONLY ever share products that I really love, whether sponsored content or not. I can't tell you how many companies I've said "no, thank you" to. But this one is different. The products are incredible quality, the people are kind, and the stuff works.
I found not one, but two probiotics for my unique health needs (depending on what life brings). The first is the HMF Womens Daily Probiotic, which I use daily, and the second is the HMF Travel, which I take when we'll be on planes, on the road (hello gas station bathrooms, or the like). Fun fact: my husband loves the HMF Fit for School tablets because they're black currant flavor (Evie will take these once she's a bit older too). My rule of thumb: take whatever probiotics he will remember to get in!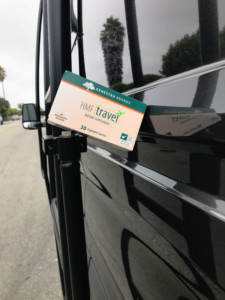 One of the things I've loved discovering through the course of my own health journey and the work with clients is just how important our digestive health is to our overall health.  Without a thriving gut flora, our immune system, mood, and entire body can be functioning at a sub-optimal level. I've always been a big proponent of probiotics, but sometimes it's hard to find the right fit. I love that I can trust Genestra to provide just what we need. I've come to trust Genestra for a variety of reasons–their formulas are research-driven, all of the products are non-gmo, and gluten-free, and their long-standing reputation for quality and purity. I love that their probiotics have research-driven strains that support overall wellness and immune function.
I started the HMF Womens Daily Probiotic about two weeks ago, and I've noticed a few things. The most important has been my digestion. As I've hinted at on social media and the podcast, I've been under A LOT of stress lately, due to some big transitions, some sleep stuff, and work things. Our digestive health is SO connected to stress, and I was feeling the effects: some bloat and a  feeling of being overfull all the time for about a week. Probiotics to the rescue! Not only does this probiotic offer 17.6 CFU of women specific probiotic strains, but it also has cranberry fruit extract for optimal urinary tract health.  The strains of this particular probiotic were hand selected to optimize a healthy vaginal flora as well. It's 2018 ladies, let's not be shy about talking about vaginal health! Gut and vaginal health in one! How about that for full body wellness?
You might be wondering why I put "bug season" in quotes. Well friends, it's because I don't think there has to be a season. If we support our guts, our hearts, and our souls, we can make it through healthy and happy. It all starts in our gut. Sending love to you all through the back to school, back to work, or whatever transition this fall brings. Stay healthy, friends ♡
‡These statements have not been evaluated by the Food & Drug Administration. These products are not intended to diagnose, treat, cure or prevent any disease.