We are SO EXCITED to share that Four Sigmatic has come on to support the Modern Mamas Podcast and to bring you guys a great deal! Get 15% off your Four Sigmatic order with code: modernmamas!  If you've been following along, you know that I am loving the impact these deeply medicinal real food supplements have had on my life, and I can't wait to hear what you think too. Happy shrooming, friends ♡
"Guest Interview – 
Meg

 the Midwife on All Things Birth, Postpartum, and Emotional Triggers"

In this episode, Jess sits down with Meg Reburn, midwife, to answer ALL the listener questions.  We tackle everything from VBACs, pushing during labor, emotional support postpartum, and birth as a trigger for sexual trauma.  Don't miss it!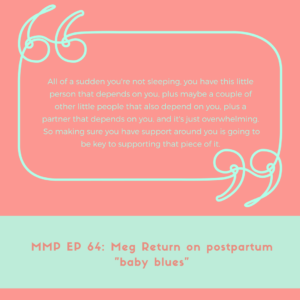 Meghanne Reburn hails from the great white north and hangs her hat in British Columbia Canada. She is a Registered Midwife, educator, Women's wellness coach, writer and former faculty member at Mount Royal University. Meghanne has a BSc with honors in health and has a special interest in both functional nutrition and women's hormone balance. Meghanne works with women both as a midwife and wellness coach. She likes to call her style of practice an 'Evolutionary Approach', believing that the body has innate wisdom to care for and balance itself given the proper time, attention and care. When not busy with work, Meg creates space to do the things that she enjoys. These days that takes the form of long distance trail running, swimming across big scary lakes, rock climbing and general "mountain adventuring". It's her jam to help women find their healthy balance so they can get feel great and do more of what makes their hearts sing.
Links and Such:
Connect with Meg: megreburn.com,  @megthemidwife
Baby Making and Beyond Info
Epi-No
Expectful Meditation App
Connect with us:
Email: modernmamaspodcast@gmail.com
Any thoughts or comments? Leave them below. We love hearing from you. Please subscribe, rate, and review! We're so glad to have you as a part of our tribe!
♡ Laura